Your Tumblr, Your Style: A Guide to Customizing Your Tumblr Blog 👩‍🎨💻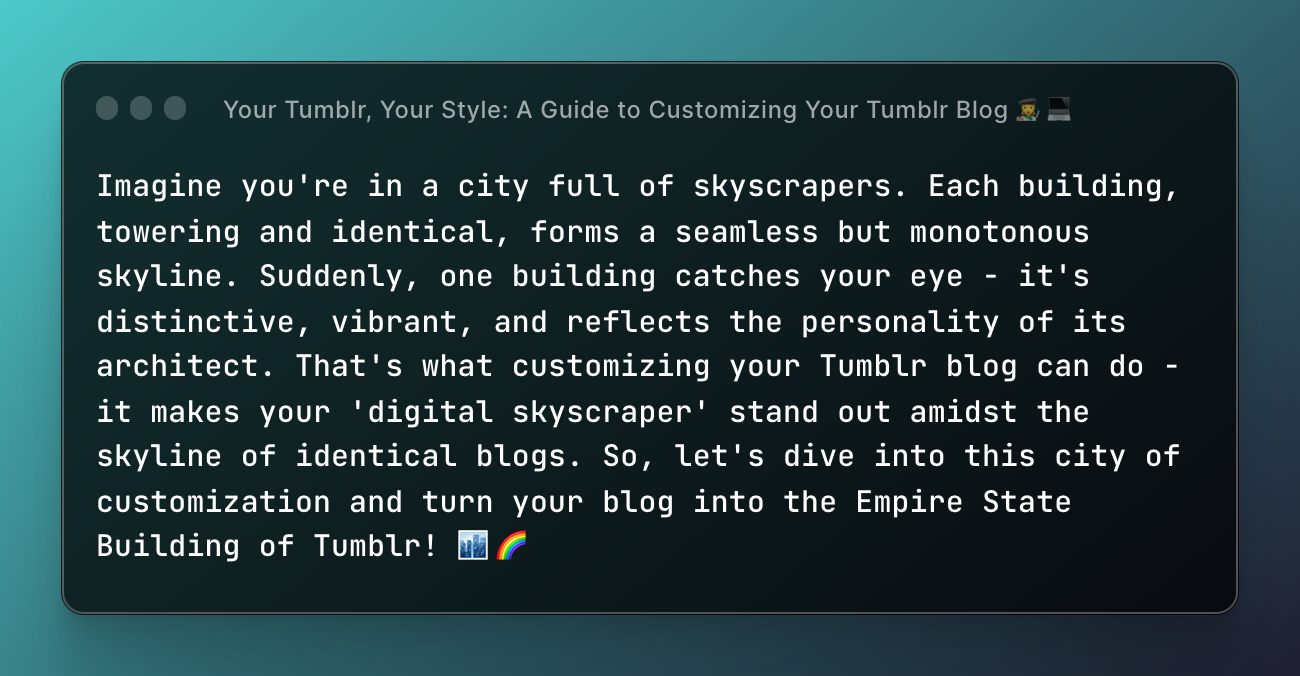 Imagine you're in a city full of skyscrapers. Each building, towering and identical, forms a seamless but monotonous skyline. Suddenly, one building catches your eye - it's distinctive, vibrant, and reflects the personality of its architect. That's what customizing your Tumblr blog can do - it makes your 'digital skyscraper' stand out amidst the skyline of identical blogs. So, let's dive into this city of customization and turn your blog into the Empire State Building of Tumblr! 🏙️🌈
1. Theme Hunting: Finding Your Building's Blueprint 🏙️📜
The first step in customizing your Tumblr blog is finding a theme. Consider it like finding the blueprint for your building - the structure that gives your blog its shape. Tumblr has a wide range of free and premium themes that cater to various aesthetics and content types. Explore, experiment, and find the one that's a perfect fit for your content! 🔎🎨
2. Customize Away: Paint Your Skyscraper 🖌️🎨
Once you've found your theme, it's time to customize. It's like picking up a paintbrush and adding your favorite colors to your skyscraper. From the color scheme and fonts to the background image and page layout, every detail can be tweaked to match your style. Remember, it's not just a blog, it's your canvas. Make it reflect you! 🌈✨
3. Pages: Adding Floors to Your Skyscraper 📚⬆️
Adding pages to your Tumblr blog is like adding floors to your skyscraper. Each page could serve a different purpose: an 'About Me' page, a contact form, a portfolio page, or even a shop for your merch! Every new page is a new floor, offering more for your visitors to explore. 🚪🏢
4. Social Media Links: Connecting Your Skyscraper to the City 🌐🔗
Don't leave your skyscraper isolated! Connect it to the rest of the city by adding social media links. It's like building roads and bridges, making it easier for people to find and reach you. Whether it's Instagram, Twitter, YouTube, or LinkedIn, connecting your social media accounts can increase your reach and engagement. 🌉🌍
Bonus Tips: Because Who Doesn't Love Extras? 🎁💡
HTML & CSS: If you're feeling adventurous, you can dive into the world of HTML & CSS for more granular control over your blog's look. It's like being both the architect and the construction crew for your skyscraper!

Mobile Look: Don't forget to check how your blog looks on mobile devices. It's like ensuring your skyscraper looks just as impressive from a helicopter tour!

Consistent Updates: Regularly updating your blog's look can keep it fresh and appealing. It's like keeping the windows of your skyscraper clean and shiny!
Frequently Asked Questions 🙋‍♂️📝
1. Can I change my Tumblr theme without losing my posts? Absolutely! Changing your theme is like giving your building a new paint job. It won't affect the people (posts) inside!
2. How do I add a custom domain to my Tumblr blog? Adding a custom domain to your Tumblr blog is like changing your building's address. You can do it through Tumblr's settings, but you'll need to purchase the domain from a domain registrar first.
3. Can I have different themes for different pages on my blog? Unfortunately, no. The theme you choose applies to your entire blog, much like how the design of a skyscraper applies to the entire building.
Before You Leave: The Quick Recap 🏃‍♂️💨
To make your Tumblr blog uniquely yours, find a theme, customize it to your liking, add pages for different content, and connect your blog to your social media. Remember the bonus tips and the FAQs to dodge common missteps.
Before you leave, remember: Customizing your Tumblr blog is like constructing your own digital skyscraper. It's your chance to leave your mark on the Tumblr skyline. So, go ahead and build a blog that's unmistakably you! 🏙️🚀
And when you're ready to fill your digital skyscraper with high-quality content, head over to Growerse - the ultimate marketplace for the best digital products. Together, let's unlock your potential and create something truly outstanding! 🌐💼