Write Your Way to Success: Making Money Online as a Student Writer 🖋️💰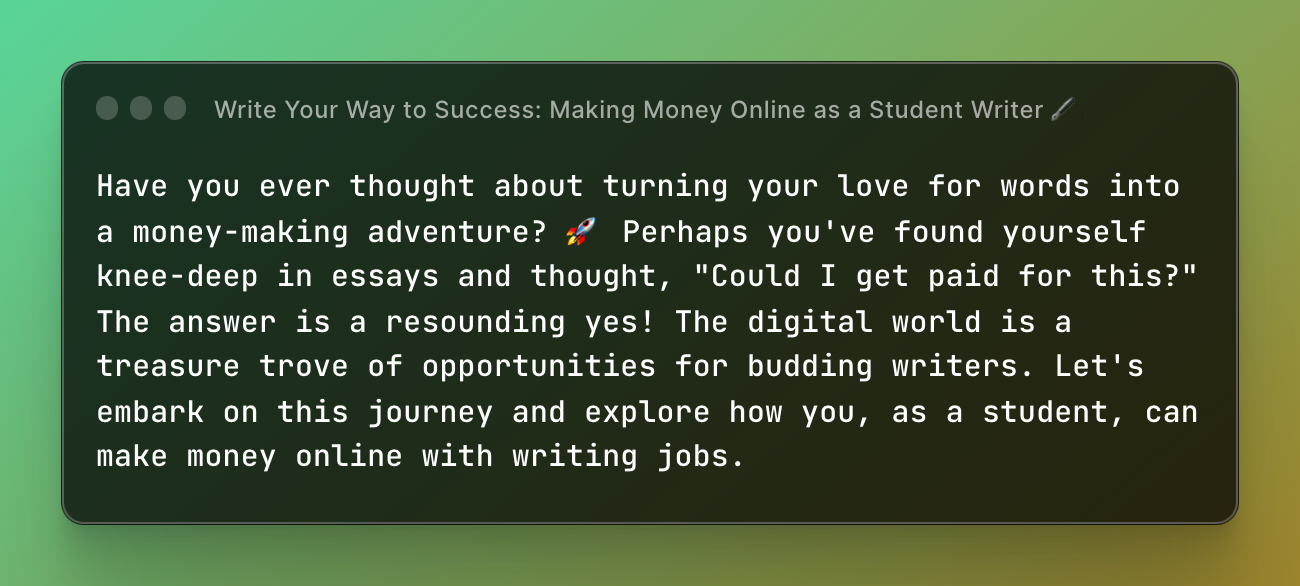 Have you ever thought about turning your love for words into a money-making adventure? 🚀 Perhaps you've found yourself knee-deep in essays and thought, "Could I get paid for this?" The answer is a resounding yes! The digital world is a treasure trove of opportunities for budding writers. Let's embark on this journey and explore how you, as a student, can make money online with writing jobs.
The World is Your Oyster: Exploring Online Writing Jobs 🌍
Think of the internet as a vast ocean and online writing jobs as pearls. There's an array of opportunities out there waiting to be discovered! From blog writing and copywriting to ebook creation and proofreading - the writing world is your oyster!
Blog Writing: The Art of Storytelling 📚
Imagine you're sitting by the campfire, captivated by the storyteller's tales. This is exactly how a reader should feel when browsing your blog! Writing blog posts on topics you're passionate about can be both fun and financially rewarding.
Copywriting: The Power of Persuasion 🧠
Ever read a product description and thought, "I need this now!"? That's copywriting in action! If you have a knack for persuasive language, this might just be your golden ticket to online earnings.
Ebook Creation: Your Name on the Cover 📖
Have you ever dreamed of becoming an author? With the rise of self-publishing, this dream is more achievable than ever. And the best part? You earn royalties every time someone purchases your ebook!
Proofreading: The Grammar Police to the Rescue 🕵️‍♀️
Are you the person your friends turn to for essay revisions? If you're a grammar aficionado, proofreading could be a rewarding avenue. You get to refine pieces of writing and earn money for your keen eye!
Showcasing Your Skills: Building a Portfolio 🖼️
Picture this: You're at a gallery, and each piece of art represents a piece of your work. This is what your portfolio should resemble! It's your chance to showcase your writing prowess and attract potential employers. So, what should it include?
A selection of your best work: These should reflect your writing style and skills.
Different types of writing: This displays your versatility.
Testimonials: If you've done work for others, ask them to provide a review!
Finding the Right Platform: Where to Look for Jobs 🔍
The internet is like a bustling city with job opportunities on every corner. Platforms like Upwork, Fiverr, and Freelancer are great starting points for finding writing gigs. Don't forget to check out job boards such as ProBlogger and BloggingPro!
Crafting a Winning Proposal: Your Ticket to Success 🎟️
Think of your proposal as your elevator pitch. It's your opportunity to showcase your skills and enthusiasm for the project. Remember, first impressions matter!
Conclusion: Transform Your Passion into Profit 🎯
So, there you have it! The secret recipe for making money online as a student writer. By exploring the right opportunities, showcasing your skills, and delivering a winning proposal, you're well on your way to success. Remember, your words have power, so why not make them work for you?
Bonus Tips: Unlock Your Potential 🏆
Keep honing your skills. The more you write, the better you get!
Don't be disheartened by rejections. They're part of the journey!
Network! Making connections can open doors to new opportunities.
FAQs
1. How much can I earn as an online writer? The earnings vary widely based on your skills, experience, and the type of work.
2. Do I need a degree to be a freelance writer? No. While some jobs may require specific qualifications, many freelance writing gigs are open to anyone with strong writing skills.
3. How can I find my first writing job? Start by building a portfolio and then scout for jobs on freelancing platforms. Don't be afraid to start small!
Before You Leave...
Remember, online writing is an exciting realm filled with opportunities for aspiring wordsmiths. So go ahead, take that first step, and let your words earn for you! 💰✍️
And while you're exploring digital opportunities, why not check out Growerse? It's an incredible platform for buying and selling digital products. From high-quality items, secure payments, easy order tracking to 24/7 customer support, Growerse ensures you have a seamless experience. It's time to unlock your digital potential!