Winning the Influencer Game: A Guide to Effective Negotiation 🤝🎯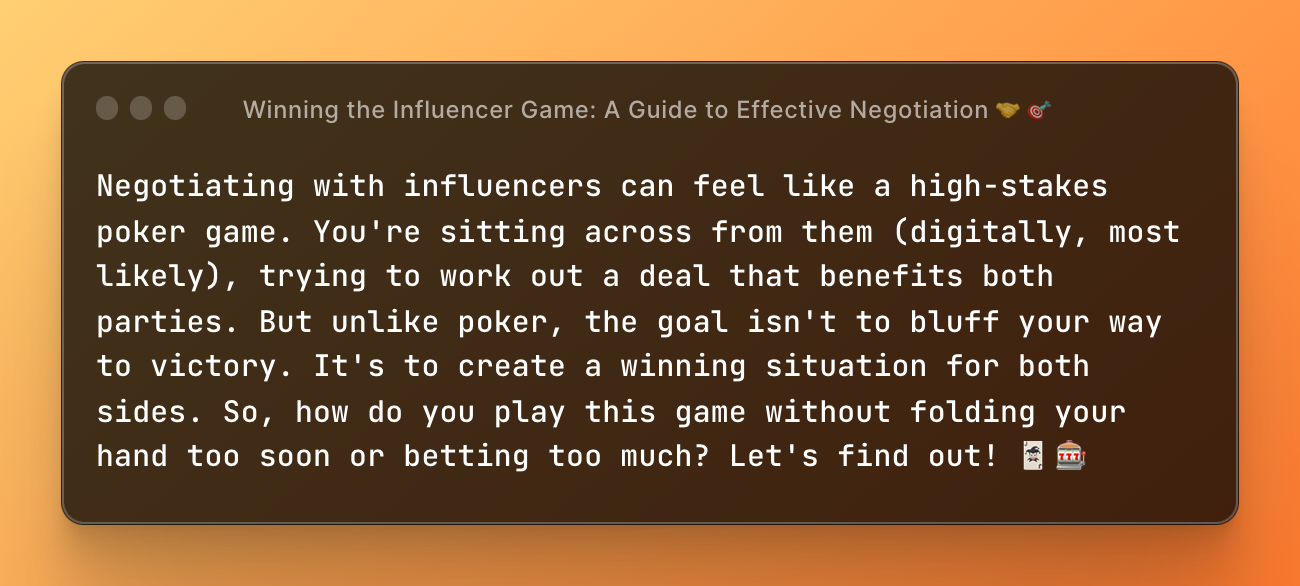 Negotiating with influencers can feel like a high-stakes poker game. You're sitting across from them (digitally, most likely), trying to work out a deal that benefits both parties. But unlike poker, the goal isn't to bluff your way to victory. It's to create a winning situation for both sides. So, how do you play this game without folding your hand too soon or betting too much? Let's find out! 🃏🎰
1. Do Your Homework: Understand the Player 🕵️‍♀️📚
Before you approach an influencer, do some research. Get a sense of their content, audience, and previous collaborations. It's like learning about your opponent's poker style before playing a hand. The more you know, the better your strategy can be. 🎯💡
2. Set Clear Goals: Know Your Winning Hand 🥅🏆
Having clear goals for your collaboration is like knowing what a winning hand looks like in poker. Do you want increased brand awareness, more website traffic, or higher sales? Knowing your objectives will help shape the negotiation and ensure the influencer can deliver what you're looking for. 👑📈
3. Make a Fair Offer: Place Your Bet 💵🔄
When it's time to put your cards on the table, make sure your offer is fair. Remember, the best deals benefit both parties. It's like betting in poker; if you bet too low, you'll be called out. If you bet too high, you may lose more than necessary. Balance is key. 💰⚖️
4. Communicate Clearly: Show Your Cards 🗣️🃏
Negotiation is a conversation, not a battle. Be open, transparent, and listen to the influencer's needs and concerns. It's like showing your cards in poker, allowing for a fair game where both players understand what's at stake. 🎭🔊
Bonus Tips: Because Who Doesn't Love Some Extra Chips? 🎁🎲
Flexible Negotiation: Be ready to adjust your offer based on the influencer's feedback. It's like adapting your poker strategy mid-game.

Long-Term Relationships: Building long-term relationships with influencers can lead to better deals in the future. It's like having a friendly poker rivalry.

Legalities: Make sure to have a written contract to avoid misunderstandings down the line. It's like knowing the rules of the game.
Frequently Asked Questions 🙋‍♀️📝
1. How much should I pay an influencer? There's no one-size-fits-all answer here. It's like asking how much to bet in poker—it depends on your hand (goals), the other player's hand (the influencer's reach and relevance), and the pot (your budget).
2. How can I ensure the influencer will represent my brand correctly? Open communication and a detailed contract are essential. Discuss your brand values, campaign goals, and content guidelines. It's like setting the rules before a friendly game of poker.
3. What if the influencer refuses my offer? That's okay. Not every negotiation leads to a deal. You may need to adjust your offer or find a different influencer. Remember, poker isn't about winning every hand, but playing your cards right.
Before You Leave: The Quick Recap 🏃‍♂️💨
Negotiating with influencers involves doing your research, setting clear goals, making a fair offer, and communicating openly. Keep in mind the bonus tips and FAQs as you navigate the influencer poker game.
Before you leave, remember: The goal isn't just to win a single hand, but to become a master of the game. Every negotiation is a chance to learn, grow, and improve your strategy. So, go ahead, play your hand, and may the odds be in your favor! 🎯🃏
And when you're ready to up your game with high-quality digital products, consider checking out Growerse - your one-stop shop for all things digital. Let's unlock your potential and create something outstanding together! 🌐💼