Unleashing the Power of Twitter Ads for Targeted Marketing Success 🚀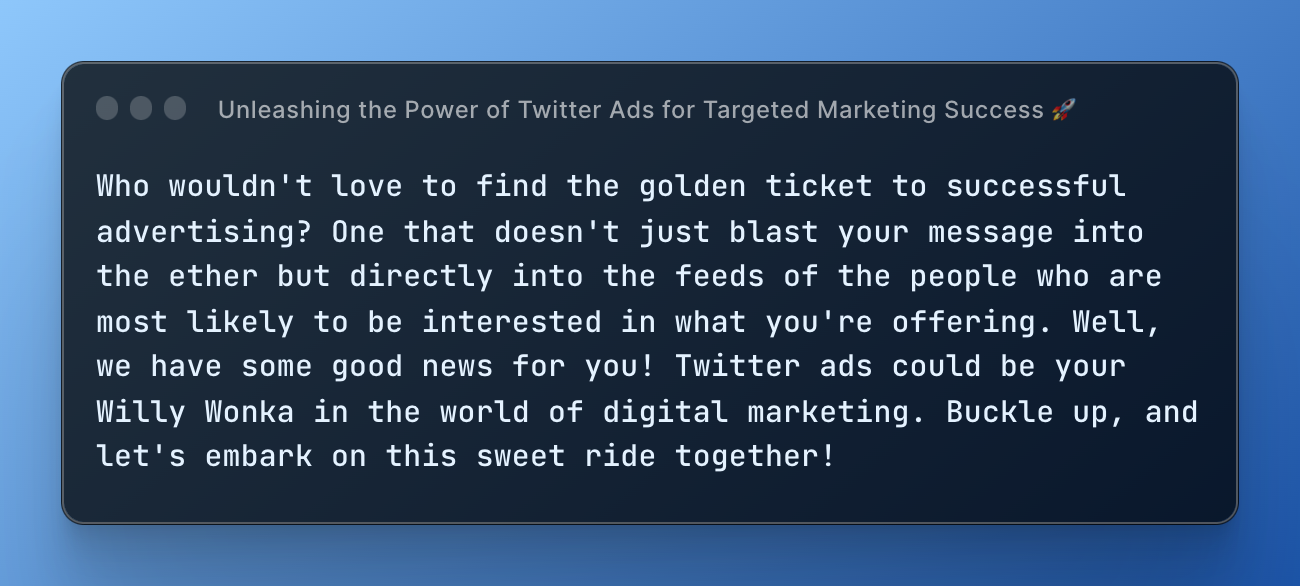 Who wouldn't love to find the golden ticket to successful advertising? One that doesn't just blast your message into the ether but directly into the feeds of the people who are most likely to be interested in what you're offering. Well, we have some good news for you! Twitter ads could be your Willy Wonka in the world of digital marketing. Buckle up, and let's embark on this sweet ride together!
Let's Chat About Twitter Ads 🐦💬
Just imagine for a moment, you're shouting in a crowded room. Everyone's speaking at the same time, and it's almost impossible to get your message across. This scene is quite similar to the reality of marketing on social media. 😅 But don't worry! Twitter Ads are your megaphone, ensuring that your message reaches your target audience loud and clear. 📢
Twitter Ads are paid content that reach a broader group, beyond just your followers. You control who sees them by selecting specific demographics, interests, behaviors, and more. It's like having a secret weapon in your marketing arsenal! 💼
Why Should You Care About Twitter Ads? 🤔
There's a whopping 330 million monthly active users on Twitter. That's a pool teeming with potential customers for your business! But how do you navigate this vast ocean? With Twitter Ads, you don't just cast a wide net and hope for the best. Instead, you throw out a well-baited line to reel in the right audience. 🎣
Crafting the Perfect Twitter Ad Strategy 🧩
To set sail on the sea of Twitter advertising, you need a strategy. Let's look at the main components you should consider:
1. Identify Your Marketing Goals 🎯
Start by asking yourself, "What am I trying to achieve?" Is it boosting brand awareness, increasing website traffic, driving conversions, or something else? This goal will guide your campaign and help measure its success.
2. Know Your Audience 👥
The beauty of Twitter Ads is their precision targeting. You can choose your audience based on their demographics, location, interests, and behaviors. It's like crafting a bespoke suit; it fits your audience just perfectly!
3. Choose the Right Ad Format 🖼️
Twitter offers various ad formats: Promoted Tweets, Promoted Accounts, and Promoted Trends. Each serves a different purpose, so select the one that aligns best with your goal.
4. Create Engaging Content 🎨
The content of your ad is your bait. Make it irresistible! Use compelling language, visuals, and a clear call to action (CTA) to captivate your audience.
5. Monitor and Optimize 📊
Remember, your Twitter ad campaign isn't a set-it-and-forget-it thing. Regularly monitor its performance and tweak as necessary to achieve the best results.
Bonus Tips 💡
When it comes to Twitter Ads, your creativity is the limit! Here are a few extra tips to spice up your campaigns:
Leverage trending hashtags to boost your ad visibility.
Use video content to engage users more effectively.
Regularly test and iterate your ads to see what works best for your audience.
FAQs
Q: How much do Twitter Ads cost? A: Twitter Ads operate on a bidding system, so the cost can vary. You decide how much you're willing to pay, based on your budget and goals.
Q: Can I schedule my Twitter Ads? A: Yes, you can schedule your ads for specific dates and times that you think your audience will be most active.
Q: Are Twitter Ads effective? A: Yes! With targeted, engaging content, Twitter Ads can drive brand awareness, website traffic, and conversions.
Quick Recap 👀
Ready to use Twitter Ads to grow your business? Remember:
Define your marketing goals.
Know your audience.
Select the right ad format.
Create engaging content.
Monitor and optimize your campaign.
And don't forget the bonus tips for that extra edge!
Before You Leave 🚪
We've just dived into the world of Twitter Ads, unraveling the secret to reach your targeted audience and meet your marketing goals. Like a well-tailored suit, these ads can perfectly fit your audience's needs, turning Twitter into a powerful marketing ally.
Just think about it: A tweet from you can flutter into the right Twitter feed, capturing interest, sparking engagement, and driving action! So, ready to take a leap into this amazing opportunity? We thought so! Happy tweeting! 😊
PS: If you're looking for top-notch digital products to bolster your online presence, check out Growerse - your one-stop shop for quality digital products. From marketing tools to templates, we have everything to help you excel in your digital journey!