Twitter Spaces: Your Next Frontier for Brand Engagement 🚀🎧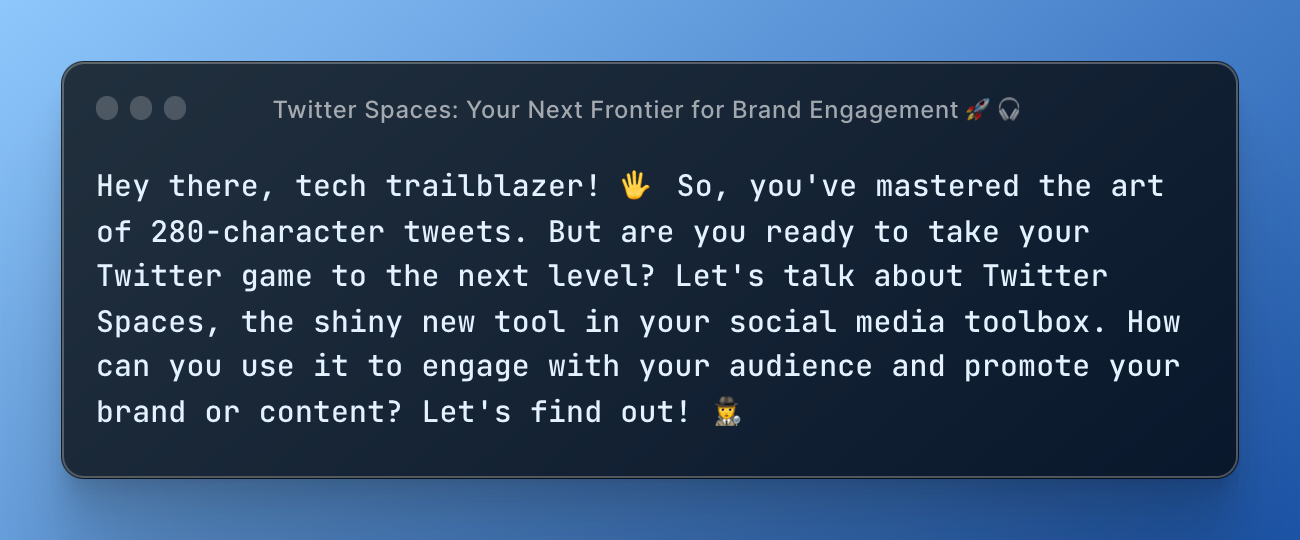 Hey there, tech trailblazer! 🖐️ So, you've mastered the art of 280-character tweets. But are you ready to take your Twitter game to the next level? Let's talk about Twitter Spaces, the shiny new tool in your social media toolbox. How can you use it to engage with your audience and promote your brand or content? Let's find out! 🕵️‍♀️
The Lowdown on Twitter Spaces 🐦🚀
Think of Twitter Spaces as the audio cousin of tweets. It's like hosting your very own radio show, right on Twitter! 🎙️📻 You can chat with others, share insights, or just hang out. And the best part? Your followers can jump right into the conversation. It's like a chatroom, but with voices. Intrigued? Let's dig in!
Why Twitter Spaces? 🎯🔊
Imagine you're in a crowded room. Everyone's shouting to be heard. That's Twitter, right? Now imagine a calm, inviting space where you can have meaningful conversations. That's Twitter Spaces. You can cut through the noise and have real, engaging dialogues with your audience.
Step-by-Step: Hosting Your First Space 🚶‍♀️🚀
Excited to host your first Space? Let's go step by step:
Open your Twitter app and hold down the compose button. You'll see a new Spaces icon - it's the diamonds icon. Tap it!
Set a name for your Space that reflects your brand or the topic of conversation.
Click on "Start your Space". Voila! You're now live!
How to Use Spaces for Brand Engagement & Promotion 📈🚀
Spark Conversations 💬🔥
Start a dialogue about your brand. Ask for feedback, share news, or discuss relevant topics. Just like Growerse, where creators and customers interact over digital products, you too can foster a community around your brand.
Showcase Your Experts 👩‍💼🔬
Got experts in your team? Bring them in a Space. They can share insights, answer questions, and boost your brand credibility.
Run Q&A Sessions ❓💬
People love asking questions. Host a Q&A session in a Space. You'll not only answer queries but also gain insight into what your audience is thinking.
Riding the Wave of Audio Content 🌊🎧
In the age of podcasts and audiobooks, audio content is soaring. With Twitter Spaces, you can ride this wave. Share insights, stories, and more. You'll not only engage your audience but also showcase your brand personality. It's like having your own mini-podcast, right on Twitter!
Branding & Promotion Tips for Twitter Spaces 📌💡
Consistency is key. Schedule regular Spaces and let your audience know when to tune in.
Invite influencers. They can amplify your message and attract more listeners.
Promote your Spaces on Twitter and other social platforms. Create buzz before going live.
Wrapping It Up 🎁🔚
Twitter Spaces is more than just another social media feature. It's a powerful tool for brand engagement and promotion. By creating Spaces, you open the door to real, authentic conversations with your audience. You not only share your brand story but also listen to what your audience has to say. After all, communication is a two-way street, right?
💡 Before you leave, remember that Twitter Spaces is like hosting your own radio show on Twitter. Be genuine, be consistent, and be engaging. And don't forget to check out Growerse for a top-tier digital product experience. 🚀
Bonus Tips 👌🎁
Make your Spaces interactive. Ask questions, run polls, and keep your audience engaged.
Use relevant hashtags when promoting your Spaces. It helps increase visibility.
Follow up with a tweet after your Space, summarising the key points or thanking your audience.
FAQs 🙋‍♂️🗂️
Q: Can I save my Twitter Spaces for later listening? A: As of my knowledge cutoff in September 2021, Twitter doesn't officially support this. However, you can use external recording tools.
Q: How many people can join a Space? A: Up to 11 people (including the host) can speak in a Space at the same time, but there's no limit to listeners.
Q: Can anyone host a Space? A: As of my last training data in September 2021, any Twitter user with 600 or more followers can host a Space.
Go ahead and give Twitter Spaces a try. It's a new frontier for you to explore, engage, and excel. Happy tweeting, folks! 🐦🎉