Turning Trolls Into Fans: Managing Negative Comments on Facebook 👥🔄❤️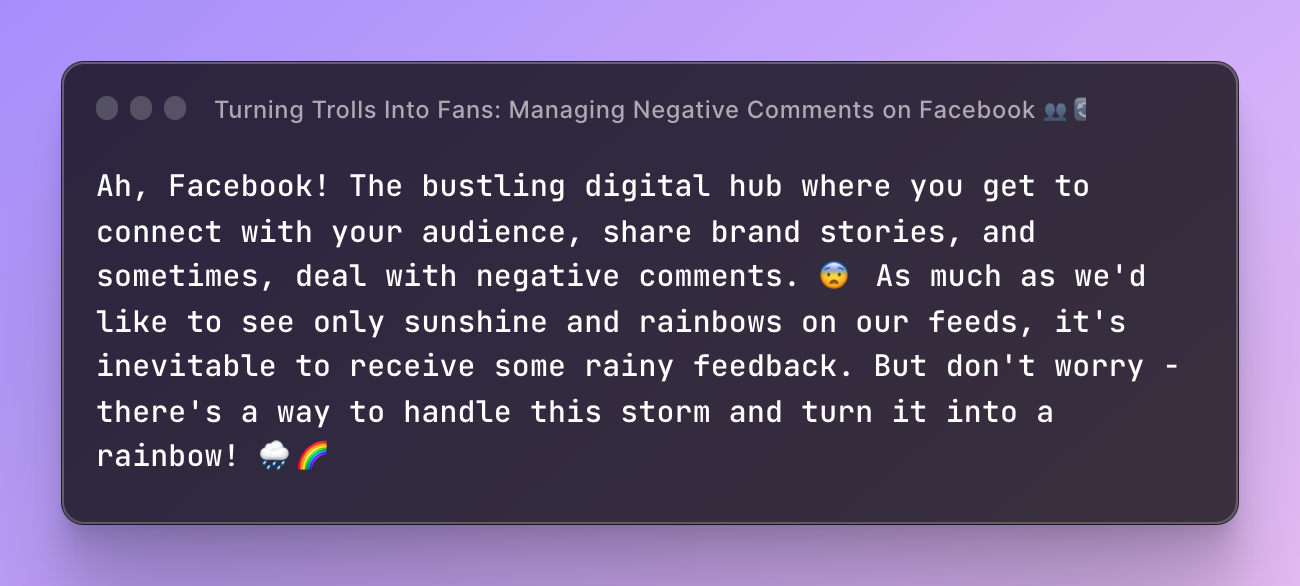 Ah, Facebook! The bustling digital hub where you get to connect with your audience, share brand stories, and sometimes, deal with negative comments. 😨 As much as we'd like to see only sunshine and rainbows on our feeds, it's inevitable to receive some rainy feedback. But don't worry - there's a way to handle this storm and turn it into a rainbow! 🌧️🌈
Understanding the Root Cause: Unhappy Commenters or Internet Trolls? 🕵️‍♂️🔍
Not all negative comments are created equal. Sometimes, they're genuine criticisms from unsatisfied customers, while other times, they're just trolls looking for a reaction.
Transforming Negativity into a Positive Engagement Opportunity 💫🔄
Negative comments? No problem! Here's how you can tackle them like a champ and manage your Facebook community effectively.
1. Respond Promptly and Professionally 🕑👔
In the face of a negative comment, speed and tone are key. Respond as soon as you can, and always maintain professionalism.
2. Empathize and Apologize 🤝💔
Showing empathy and saying sorry can go a long way in diffusing a situation. Remember, behind every comment is a real person with real feelings.
3. Provide Solutions, Not Excuses 💡🚫
After apologizing, offer a solution to the problem. It's about problem-solving, not finger-pointing.
4. Use Private Messages for Detailed Discussions 📨🔒
Sometimes, issues need more than just a comment response. Move the conversation to private messages if you need to discuss details.
5. Don't Feed the Trolls 🙅‍♂️🍔
As for trolls? Don't engage. If they're disrespectful or abusive, it's better to report or ban them from your community.
Bonus Tips 🎁
Regularly engage with your audience. This builds a positive community atmosphere and discourages negativity.
Have community guidelines in place. This sets expectations about behavior on your page.
FAQs
Q: Should I delete negative comments? A: As a general rule, no. It's better to address the issue transparently. However, comments that are offensive, abusive, or violate community guidelines should be removed.
Q: How can I encourage positive interactions in my community? A: Regularly engaging with your community, sharing valuable content, and fostering a positive atmosphere can encourage more positive interactions.
Quick Recap 📝
Respond promptly and professionally: Be quick and keep it professional.
Empathize and apologize: Show understanding and express regret.
Provide solutions, not excuses: Be helpful, not defensive.
Use private messages for detailed discussions: Take it to DMs for in-depth talk.
Don't feed the trolls: Don't engage with disruptive behavior.
Before You Leave 👋
Running a Facebook community can be challenging, especially when dealing with negative comments. But remember, each challenge is an opportunity in disguise. Use these instances to show your commitment to your community, your dedication to customer service, and your brand's character.
Ready to take your Facebook community management to the next level? Check out Growerse, the ultimate digital product marketplace. From community management tools to resources that can help you handle criticism gracefully, we've got you covered. Start exploring now and turn those trolls into fans! 🏁🚀