📈🐦 Turbocharging Your Twitter Profile: Attract, Engage, and Amplify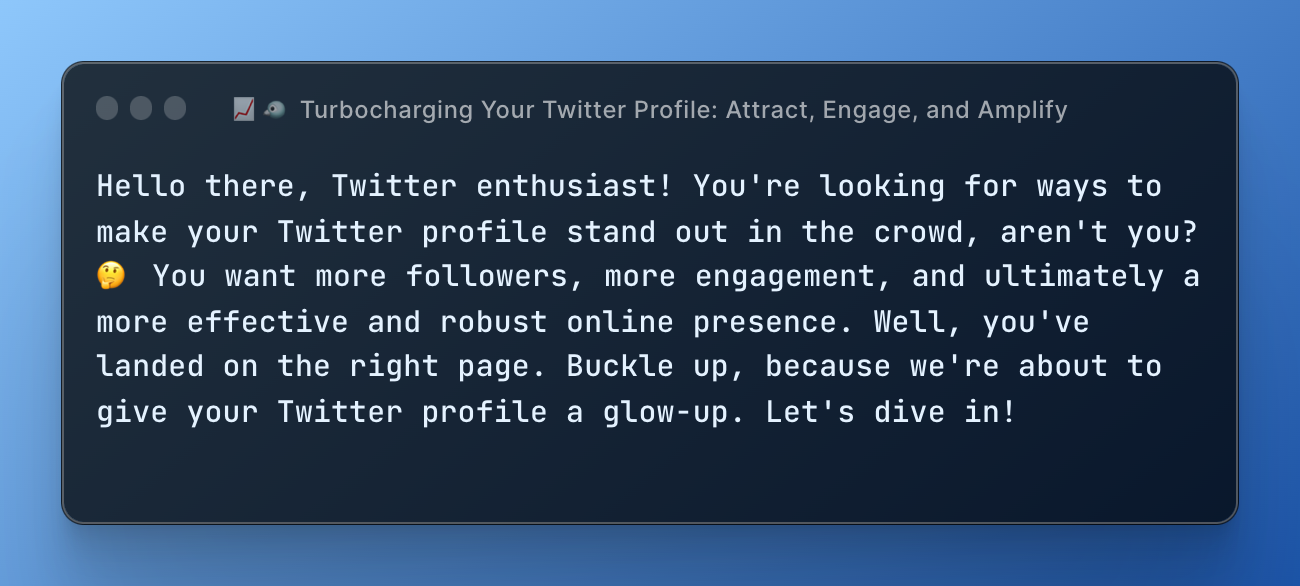 Hello there, Twitter enthusiast! You're looking for ways to make your Twitter profile stand out in the crowd, aren't you? 🤔 You want more followers, more engagement, and ultimately a more effective and robust online presence. Well, you've landed on the right page. Buckle up, because we're about to give your Twitter profile a glow-up. Let's dive in!
1️⃣ The Essence of You: Defining Your Brand 🎨🔍
What is the one thing that sets you apart from the millions of other Twitter profiles? It's your brand. Your brand is not just your name, it's your identity. It's like your DNA — unique and exclusive to you.
"But how do I define my brand?" you may ask.
Well, try this. Picture your Twitter profile as a house 🏠. You are inviting guests (followers) over. How do you want them to feel when they step into your house? Welcomed? Amused? Enlightened? This emotional response is the cornerstone of your brand.
2️⃣ Painting Your Canvas: The Visual Aspect 🎨🖼️
Now that you've defined your brand, it's time to paint your canvas. Your profile picture, header image, and the colors you choose are all parts of this canvas. Like a bee drawn to a blooming flower 🐝🌼, users are drawn to profiles with compelling visuals.
Your profile picture should ideally be a clear, professional headshot or a logo if you're a business. Your header image is the billboard of your brand. It's the perfect spot to announce new products, initiatives, or simply to highlight your brand's essence.
3️⃣ It's All in the Name: Username and Handle 🕵️‍♂️📛
Choosing the right name and handle (@username) is like the perfect handshake 🤝. It should be firm, confident, and most importantly, memorable. It's often the first thing people notice about your profile, so make it count!
4️⃣ Setting the Tone: Crafting Your Bio 🖋️💼
Your bio is your elevator pitch. In just 160 characters, you need to sum up who you are and why people should follow you. Sounds like a challenge, right? Don't worry, just remember these key points:
Make it relevant and specific.
Highlight your achievements and areas of expertise.
Add a dash of personality to keep things interesting.
5️⃣ Engaging Your Audience: Content is King 🤴📚
Yes, content is king. But what makes a king? It's not the crown, it's the influence. To reign over Twitter, you need to create content that resonates with your audience. Here's how you can do it:
Find out what your audience loves and deliver it consistently.
Use hashtags wisely to join trending conversations.
Engage with your followers by asking questions, running polls, or sharing relatable memes.
6️⃣ Networking: Building Relationships 👥🌉
On Twitter, you can't exist as an island. It's all about building bridges and forming connections. Follow relevant accounts, retweet interesting content, respond to tweets, and mention others in your posts. Remember, Twitter is a social network, so be social!
🎁 Bonus Tips
🔄 Regularly update your profile to keep it fresh and engaging.
📅 Schedule tweets during peak hours to reach more followers.
👀 Keep an eye on your analytics to understand what works and what doesn't.
🙋‍♀️ FAQs
Q1: How often should I tweet? A1: There is no hard and fast rule, but aiming for 3-5 tweets per day is a good start.
Q2: What are the peak hours on Twitter? A2: Typically, the best times to post are between 12 pm-1 pm on weekdays.
Q3: What kind of content should I share? A3: Share content that aligns with your brand and resonates with your followers. This could include articles, images, videos, quotes, or personal insights.
Before You Leave...👋
If you've reached this part of the article, kudos to you! 🥳 We've taken a thrilling ride through the terrain of Twitter profile optimization. From defining your brand to crafting a compelling bio, choosing a memorable handle, painting your profile, producing engaging content, and finally building meaningful relationships. Remember, it's not about being perfect. It's about expressing your unique self and connecting with your audience in a way that no one else can. So go ahead, give your Twitter profile the glow-up it deserves. Ready, set, tweet! 🚀