The Ultimate Guide: Juggling Personal and Professional Social Media Use 💼🔮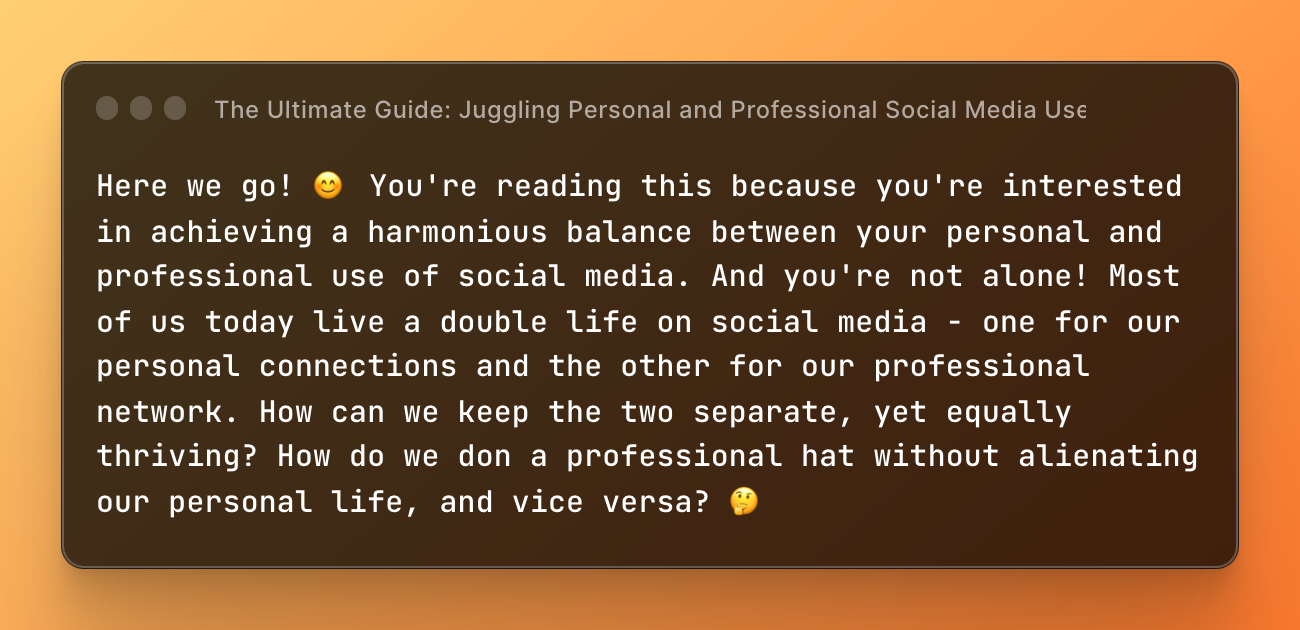 Here we go! 😊 You're reading this because you're interested in achieving a harmonious balance between your personal and professional use of social media. And you're not alone! Most of us today live a double life on social media - one for our personal connections and the other for our professional network. How can we keep the two separate, yet equally thriving? How do we don a professional hat without alienating our personal life, and vice versa? 🤔
In this modern age, the lines between our professional and personal lives are often blurred by the ubiquitous nature of social media. Imagine this; social media is like a giant, bustling city 🌆 where we all have two homes - one is a laid-back, comfy house (our personal life) and the other, a sleek, modern office (our professional life). Navigating between these two places might seem tricky, but with the right roadmap, it's a breeze! 🍃 Let's dive into this together.
1. Set Clear Boundaries 🚧
Start by delineating clear boundaries. Think of it as building a virtual fence between your professional and personal social media accounts. These boundaries can take several forms, such as separate accounts for personal and professional use, or different platforms for different purposes.
2. Understand Each Platform's Purpose 🎯
Understanding the essence of each platform helps. LinkedIn, for instance, is your professional playground, while Instagram can be your personal photo album. Twitter could be a mixture of both. Ensure that the content you post aligns with the purpose and audience of each platform.
3. Privacy Settings are Your Best Friend 🔒
Don't ignore privacy settings! Adjust them according to your comfort level. You might want to keep your personal account private, allowing only friends and family to view your posts.
4. Be Mindful of Your Posts and Shares 📝
Always remember that the internet never forgets. Be mindful of what you post or share on both your personal and professional accounts. Inappropriate content can damage your online reputation.
5. Network Wisely 🌐
Networking is essential, but not all networks are equal. Accept or send out professional connections on LinkedIn, and keep Facebook for your high-school buddies and family. This separation keeps your personal and professional life distinct and well-managed.
6. Never Mix Business with Pleasure 🚫
Like oil and water, business and pleasure don't mix well. Refrain from sharing personal problems or overly casual posts on your professional account, and vice versa.
7. Regular Audits are Crucial 📋
Regularly auditing your social media presence ensures that you're presenting yourself the way you intend to. Regular cleanup of undesirable content, updating your professional achievements, or tweaking your personal bio can make a big difference.
BONUS TIPS! 💡
Keep up with changes: Social media platforms frequently update their privacy settings and features. Make sure to stay updated to manage your accounts effectively.

Digital detox: It's healthy to step away from social media occasionally. A digital detox can help you maintain a better personal and professional life balance.
FAQs ❓
Q: Can I use the same account for personal and professional use? A: It's possible, but not advisable. Having separate accounts allows for more freedom in content and connections on each account.
Q: How often should I audit my social media accounts? A: Ideally, once every few months. But if you post very frequently, monthly audits could be more beneficial.
Quick Recap 🔄
Juggling personal and professional use of social media can seem daunting, but it's a breeze with the right strategies. Establish clear boundaries, understand each platform, utilize privacy settings, be mindful of what you share, network wisely, never mix business with pleasure, and perform regular audits. Don't forget our bonus tips!
Before You Leave 🙋‍♂️
Remember, social media is just a tool to connect and share. It should never feel like a burden. With the tips we've discussed today, you're now ready to effectively manage your personal and professional social media presence. Enjoy the journey, and remember - balance is key! 🗝️
And as you navigate through this digital landscape, remember to visit Growerse, your one-stop-shop for digital products! Whether you're a creator looking to sell or a customer in search of quality digital products, Growerse has got you covered. It's the perfect place to grow alongside a vibrant community while benefiting from transparent pricing, secure payments, and 24/7 support! Start your Growerse journey today! 🚀