The Instagram Blockbuster: Can Blocked Users Still Mention You? 🤔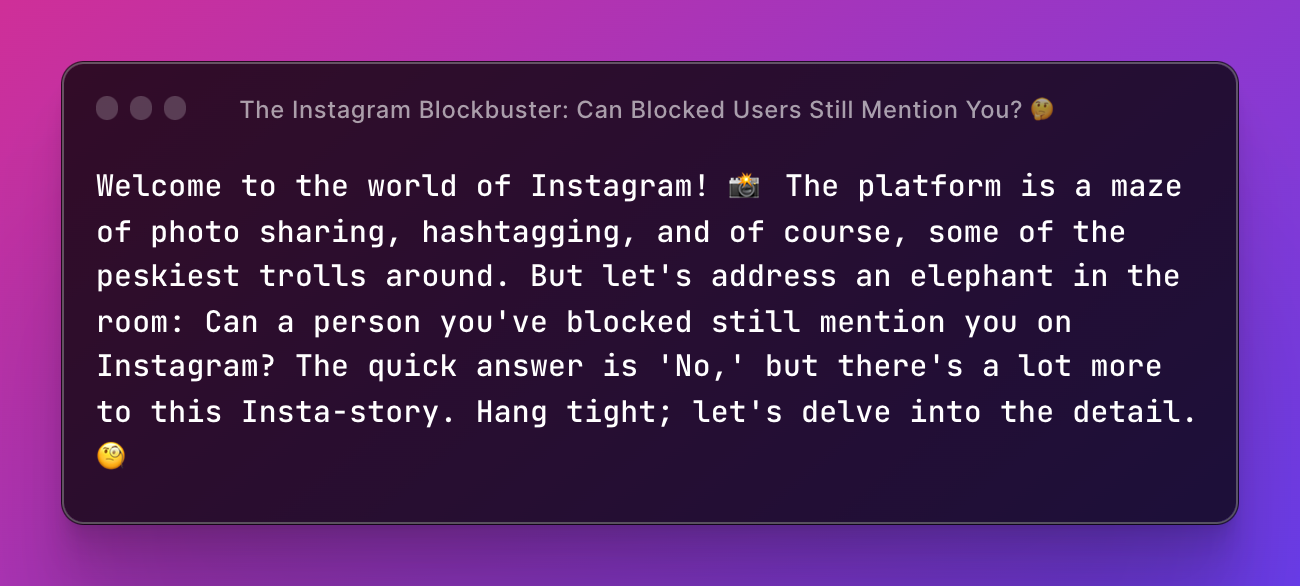 Welcome to the world of Instagram! 📸 The platform is a maze of photo sharing, hashtagging, and of course, some of the peskiest trolls around. But let's address an elephant in the room: Can a person you've blocked still mention you on Instagram? The quick answer is 'No,' but there's a lot more to this Insta-story. Hang tight; let's delve into the detail. 🧐
I've Blocked Someone on Instagram, What Happens Next? 🚫
Let's be clear; blocking on Instagram is not a mere slap on the wrist. It's a full-blown "Bye Felicia!" 🙅‍♀️ When you block someone, they're no longer able to see your posts, stories, or even search for your profile.
Consider it the social media equivalent of Harry Potter's invisibility cloak. You're there, but for them, you might as well be in another dimension. 🌌
But wait a second! 🖐️ What about mentions, comments, or tags? Well, they can try, but Instagram won't let them. It's like shouting into the void—no one hears you. 🚀
Now, wouldn't it be nice if there was a tool that could help make your Instagram experience even better? Enter Growerse, the ultimate social media marketing panel where you can buy followers, likes, views, and much more.
Uncovering the 'Block' Mystery: What about Older Mentions and Tags? 👻
So, you're saying, "Okay, I get it, they can't tag or mention me now, but what about all those comments and tags from before I blocked them?" 🤔
This is where things get a little 'Stranger Things' upside-down. When you block someone, their previous comments and tags on your posts become invisible. It's like Instagram waves a magic wand and turns them into social media ghosts. Spooky, right? 👻
But don't let it frighten you; consider it as an Instagram cleanse, a way to declutter your profile from unwanted attention. Speaking of attention, ever thought about increasing your profile views? Check out Growerse where you can buy views in no time! 📈
Block, Unblock, Repeat: What Happens Then? 🔄
Now, this is a tricky one. You blocked someone, then had a change of heart, unblocked them, and then blocked them again. Sounds like a soap opera plot, doesn't it? But what happens to the mentions and tags in this case?
Well, Instagram is not a 'block today, mention tomorrow' kind of platform. So, those mentions and tags stay vanished until you decide otherwise. A good thing, right? Less drama, more control over your account. 🎭
Wrapping Up: The Power of Blocking in Your Hands 👊
So, to answer the burning question: No, a person you've blocked cannot mention you on Instagram. Block them, and voila! You've made yourself invisible to them - posts, stories, comments, and even mentions and tags.
For an extra boost on Instagram, remember to visit Growerse where you can buy followers, likes, and a lot more. Happy Instagramming!
FAQs
1. Can I see if a blocked person has tried to mention me?
Sorry, no superpowers here! Instagram doesn't send notifications if a blocked person attempts to mention you.
2. If I unblock someone, will I see their older mentions and tags?
Once you unblock someone, their older mentions and tags will reappear on your posts.
3. Can a blocked person see my comments or likes on common friends' posts?
No, your activity remains hidden from them, just like your posts and stories.
Before You Leave 🏃‍♂️
Remember, your Instagram experience should be about fun and creativity, not about dealing with pesky trolls. Blocking on Instagram gives you the power to control your own narrative. And if you're looking to amp up your Instagram game, don't forget to check out Growerse. Happy Instagramming!
Tired of Instagram trolls? 🙅‍♀️Good news! Once blocked, they can't mention or tag you anymore. Enjoy a troll-free Insta-life! 🙌🌈 #InstagramBlock #TrollFree