The Great Escape: How to Remove Yourself from an Instagram Post You're Tagged In 🏷️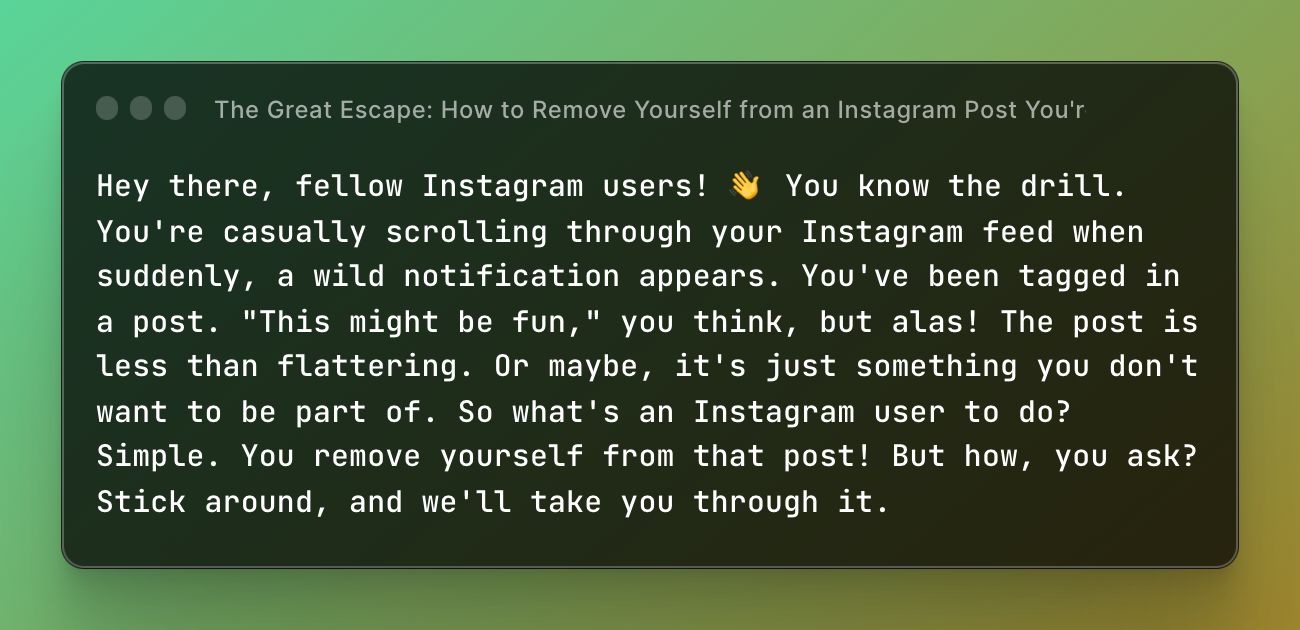 Hey there, fellow Instagram users! 👋 You know the drill. You're casually scrolling through your Instagram feed when suddenly, a wild notification appears. You've been tagged in a post. "This might be fun," you think, but alas! The post is less than flattering. Or maybe, it's just something you don't want to be part of. So what's an Instagram user to do? Simple. You remove yourself from that post! But how, you ask? Stick around, and we'll take you through it.
How Did I Get Here? Understanding Instagram Tags 🏷️🤔
Instagram tagging, in case you're wondering, is like being mentioned in someone's conversation. It's the digital equivalent of a friend pointing at you in a crowd and saying, "Hey, that's my buddy over there!" Pretty cool when it's a post you like, right? But less cool when it's a post that has you cringing. 😬
The Magic Trick: How to Remove Yourself from a Tagged Post 🎩🐇
Here's the magic trick. The Houdini act you've been waiting for. Ready?
Open the post: Navigate to the post where you've been tagged.
Tap on your username: Your tagged name should appear on the post. Tap on it.
Choose "Remove me from post": A list of options will pop up. Select "Remove me from post", and voila! You're free.
Now that wasn't so hard, was it? You're free from that tagged post like a bird soaring in the sky. 🐦
But wait! What if you don't want to be tagged in future posts either? Well, don't worry. We've got you covered. 😉
More Than a Magic Trick: Preventing Future Tags 🛡️
Maybe you're tired of the constant tag notifications. Or perhaps you want to avoid any potential posts that might make you facepalm. Whatever your reason, you're in luck! Instagram's got a feature for that.
Before we dive into this, take a pause and ask yourself. Is there a better way to manage your Instagram presence? Have you ever wished for more engagement on your posts? 💭
And here's a great solution: Growerse. It's the ultimate social media marketing panel where you can buy followers, buy likes, buy views, and so much more! It's all about amplifying your social media presence, safely and effectively. Try it, and you might just become the next big thing on Instagram! 🚀
What's The Deal: Benefits of Controlling Your Instagram Tags 🏆
Being in control of your Instagram tags isn't just about avoiding potentially embarrassing posts. It's about taking control of your online presence. It's your way of shaping the narrative of your life on social media. Sounds pretty empowering, doesn't it? 🌟
Wrap It Up: Taking Control of Your Instagram Tags 🎁
Phew! We've covered quite a bit of ground today, haven't we? We've learned how to remove ourselves from a tagged post and how to prevent future tags. 🙌
And as a bonus tip, consider enhancing your Instagram presence with Growerse. It's a reliable place to buy subscribers or buy members, and increase your social media footprint. Imagine the possibilities! 🌈
Before You Leave: The Quick Recap 📝
Just a quick recap before you set out on your Instagram journey. To untag yourself, simply open the post, tap on your tagged name, and select "Remove me from post". To prevent future tags, navigate to your settings, choose "Privacy", and then "Tags". Control who can tag you and approve tags manually. Remember, you're in control.
And remember, if you want to level up your Instagram game, don't hesitate to check out Growerse. Happy 'gramming! 👋
---
FAQs
Q: Can I re-tag myself in a post after removing my tag? A: Nope, you can't. Once you remove your tag, only the person who posted can tag you again.
Q: What happens when I remove my tag from a post? A: The post will no longer appear on your profile, and your followers won't see it in their feeds. It's like you were never there!
Q: Can I remove tags from comments? A: No, you can't remove tags from comments. However, you can report them as spam or inappropriate if needed.
Q: What's the best place to buy followers, likes, and views for Instagram? A: Growerse is a great platform to boost your Instagram presence with genuine followers, likes, and views. Enjoy their seamless experience today!
Get untangled from those unwanted Instagram tags. 📷🔖 Find out how to remove yourself from a tagged post in a few easy steps! #InstagramTips #UntagYourself