Teamwork Makes The Dream Work: Collaborating on Facebook to Amplify Your Reach 🚀🤝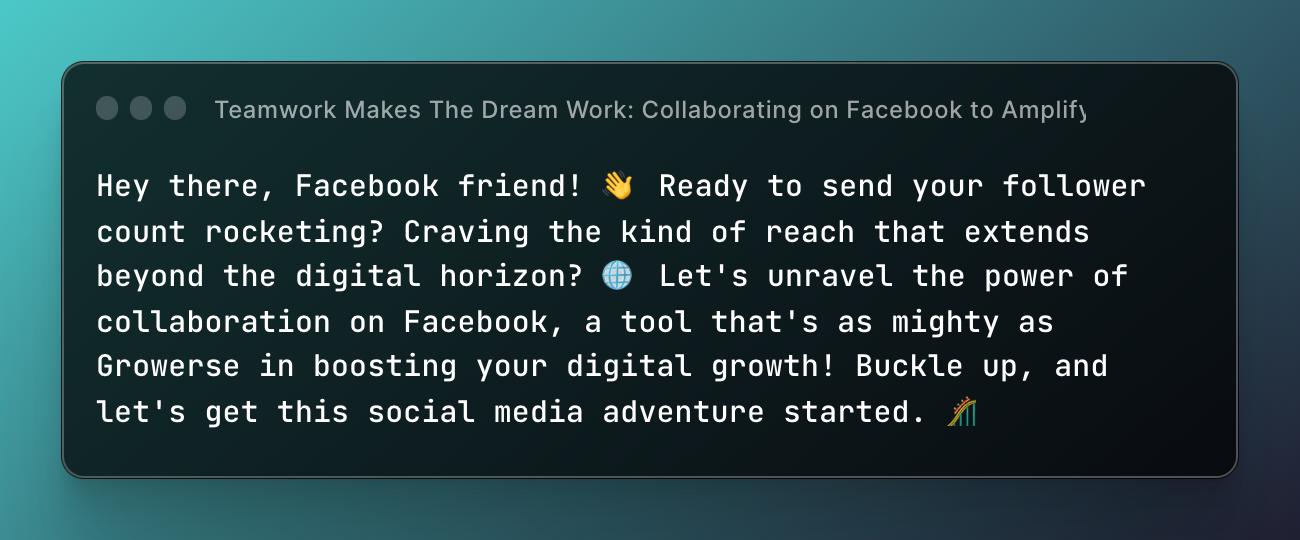 Hey there, Facebook friend! 👋 Ready to send your follower count rocketing? Craving the kind of reach that extends beyond the digital horizon? 🌐 Let's unravel the power of collaboration on Facebook, a tool that's as mighty as Growerse in boosting your digital growth! Buckle up, and let's get this social media adventure started. 🎢
The Magic of Collaboration 🎩🐇
Imagine you're hosting a party, but the only guests are the people you already know. You have a great time, but the crowd doesn't grow. Now imagine you invite a friend who brings their own friends. Suddenly, your little get-together is a buzzing social event! This, dear reader, is the magic of collaboration. 🎉🤗
Identifying the Right Collaborators 👥🔍
Just like you'd pick the perfect digital product for your customer, you need to pick the perfect collaborators for your brand. This means seeking out Facebook pages and influencers whose values align with yours and whose audience would find your content valuable. It's a bit like finding your perfect match. 💘🔐
Approaching Collaborators: Breaking the Ice ❄️⛏️
Just as you'd approach a new customer with a friendly greeting and a clear proposition, the same goes for potential collaborators. Make your intentions clear, communicate the mutual benefits, and remember to always be respectful. It's all about building relationships, after all! 💬🤗
Cross-Promotion: Doubling the Impact 🔄💥
Once you've agreed on a collaboration, it's time for the fun part: cross-promotion! It's like a digital high-five where both parties agree to share each other's content or create something new together. This can lead to a surge in new followers and enhanced reach. Win-win, right? 🙌🎯
Tracking Results: The Proof is in the Pudding 📈🍮
Just as you'd track the performance of your digital products on Growerse, you need to track the results of your collaboration. Monitor likes, shares, comments, and new followers to see the impact of your joint venture. It's like a report card for your collaborative project. 📊👀
Nurturing the Relationship: Collaboration is a Journey, Not a Destination 🌱🛣️
Don't forget, collaboration isn't just a one-time thing. Like a well-tended garden, relationships need to be nurtured and sustained. Keep the communication channels open, be appreciative of your collaborator's effort, and always be on the lookout for new opportunities to work together. 💖🔁
Before You Go... 🚪🏃‍♀️
Remember, Facebook collaborations are about much more than growing your follower count. They're about building relationships, expanding your community, and opening the doors to new opportunities. Just like Growerse is a marketplace for unique digital products, Facebook can be a marketplace for fruitful collaborations. Happy collaborating, folks! 🎉🤝
Bonus Tips 👌🎁
Don't just stick to pages in your exact niche. Collaborations can work well with complementary niches too!
Be creative with your collaborations. Think about live videos, joint competitions, or co-created content.
Always respect the audience you're reaching out to. Authenticity goes a long way!
FAQs 🙋‍♂️🗂️
Q: How can I find influencers to collaborate with on Facebook? A: Use Facebook's search feature, explore relevant hashtags, or look at the influencers who are followed by your audience.
Q: How should I approach a potential collaborator? A: Be clear, concise, and respectful. Outline the benefits of the collaboration for both parties and suggest a few ideas.
Q: How can I track the success of a collaboration? A: Keep an eye on engagement metrics like likes, comments, shares, as well as any increase in your follower count.
So, ready to join hands with others and create something amazing? Remember, collaboration is the secret sauce that adds that extra zing to your Facebook strategy. Good luck, and here's to your next successful collaboration! 🍻🎉