Tap, Scroll, Discover: Finding Your Tagged Instagram Posts 📸🎈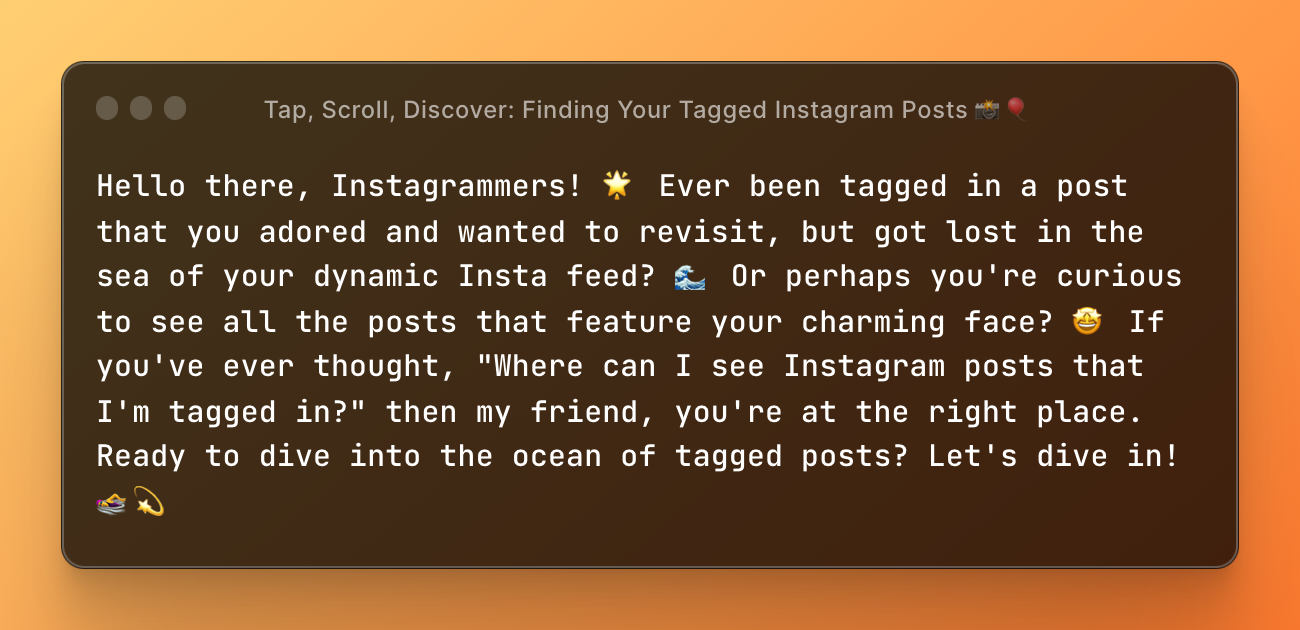 Hello there, Instagrammers! 🌟 Ever been tagged in a post that you adored and wanted to revisit, but got lost in the sea of your dynamic Insta feed? 🌊 Or perhaps you're curious to see all the posts that feature your charming face? 🤩 If you've ever thought, "Where can I see Instagram posts that I'm tagged in?" then my friend, you're at the right place. Ready to dive into the ocean of tagged posts? Let's dive in! 🏊‍♀️💫
Decoding the Magic: The Tagged Posts Section 📖🔮
Think of your Instagram account as a bustling photo album 📔, and the tagged posts section is like a special collection of snaps where you've been named! It's a cozy corner where all your memories tagged by others reside. Exciting, right? 🌈📸
Your Map to the Treasure: How to Find Tagged Posts on Instagram 🗺️🎯
Finding your tagged posts on Instagram is as simple as pie. Who doesn't like pie, right? 🥧 So, let's get into the recipe of finding your tagged posts:
Open Instagram: It all starts with tapping on that colorful Instagram icon on your device. Let the adventure begin! 📱🚀

Go to Profile: Tap on your profile icon at the bottom right corner. Welcome to your Insta hub! 🏠💖

Tap the Tagged Icon: Find the icon that looks like a person inside a square in the horizontal menu. Consider it the magic door to your tagged posts. 🚪🔮

Explore Your Tagged Posts: You're there! Scroll through and enjoy your tagged memories. It's like walking down memory lane! 🛤️🎈
And that's it, folks! Just a few taps and you're in your tagged posts wonderland.
The Post Party: Navigating Your Tagged Posts 🎉📸
When you're in your tagged posts section, you're in control. You can browse, like, comment, and share, just like on any other Instagram post. Plus, if there's a tag you're not too happy about, you can choose to hide it or even remove it. It's your tagged post party, and you get to decide the rules! 🥳👑
Bringing It Home: Celebrate Your Instagram Journey 🎁🎊
Instagram tags are a celebration of connections, memories, and moments. By knowing how to navigate your tagged posts, you're unlocking a vibrant aspect of your Instagram journey. So, go on, explore your tagged posts, and keep shining on Instagram! 🌟🌈
Bonus Tip: Managing Your Tag Settings 🎁🔐
Instagram lets you choose who can tag you in posts. You can allow everyone, only people you follow, or no one. To adjust these settings, simply go to your privacy settings, select tags, and choose your preference. Voila, your digital boundaries are set! 🛡️👥
FAQs
Q1: Can I untag myself from a post on Instagram?
A: Yes, you can! Simply go to the post, tap on your username, and select 'Remove Me from Post'. Boom, you're untagged! 🚀🚫
Q2: Can I control who tags me in posts?
A: Absolutely! Instagram gives you the power to decide who can tag you. Simply adjust your tag settings as per your comfort. Power to you! 💪🔒
Q3: Can I see the tagged posts of others?
A: Yes, you can see the tagged posts of others, provided their profiles are public or you're their follower (for private accounts). It's like peeking into their digital scrapbook! 📘🔍
Before You Leave... 🍀
Instagram tags are a wonderful way to connect and share your moments. Embrace them, manage them, and enjoy your Instagram journey. And remember, you're the captain of your Instagram ship, sail it your way!
---
Speaking of digital journeys, do check out Growerse if you're into digital products. It's a fabulous marketplace offering a wide range of digital products. Perfect for creators and consumers alike. Happy exploring! 🌐🛍️