Swipe, Tap, and Block: Mastering the Art of Blocking on Snapchat 👻🚫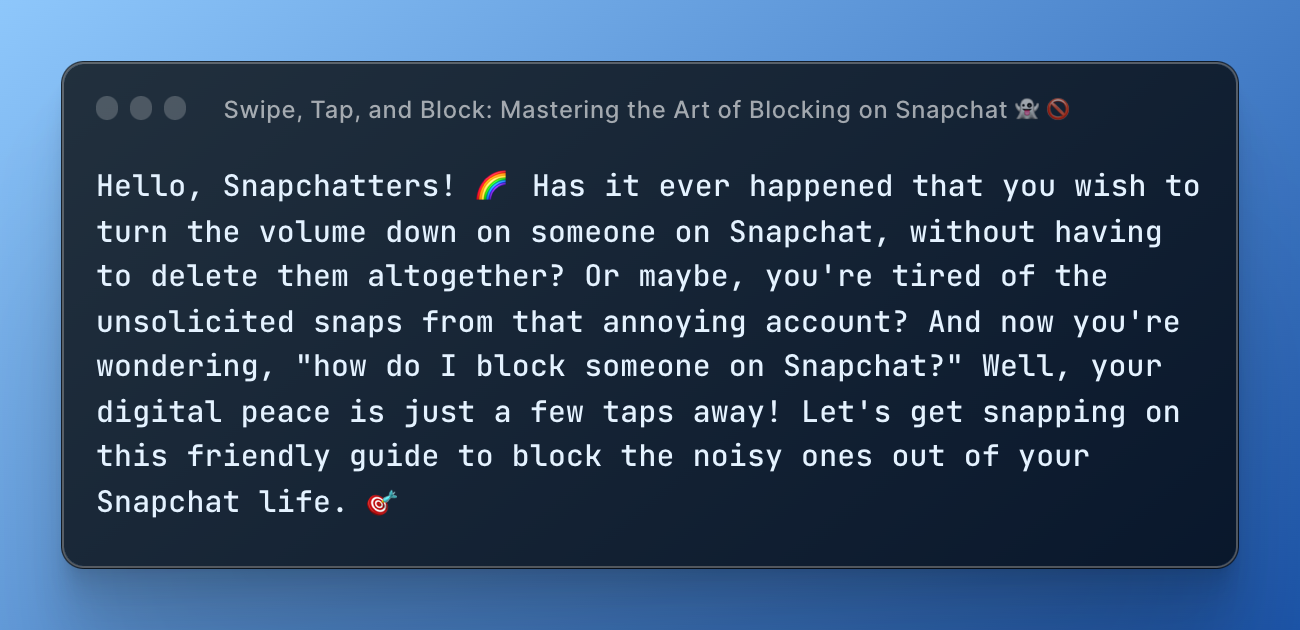 Hello, Snapchatters! 🌈 Has it ever happened that you wish to turn the volume down on someone on Snapchat, without having to delete them altogether? Or maybe, you're tired of the unsolicited snaps from that annoying account? And now you're wondering, "how do I block someone on Snapchat?" Well, your digital peace is just a few taps away! Let's get snapping on this friendly guide to block the noisy ones out of your Snapchat life. 🎯
Clearing the Fog: What Does Blocking Mean on Snapchat? 🌫️🔍
Before we dive into the 'how', let's shine some light on the 'what'. Imagine your Snapchat account as your personal digital party 🎉. Now, blocking someone on Snapchat is like not inviting a particular person to your party. They can't interact with you or see your story, and it's as if they are off your guest list! Sounds handy, doesn't it? 🛡️👻
Plotting the Route: How to Block Someone on Snapchat 🗺️🚀
Blocking someone on Snapchat is as easy as making a pancake! 🥞 And who doesn't love pancakes, right? So, let's jump into the simple steps to add someone to your Snapchat block list:
Open Snapchat: Your journey begins with launching the Snapchat app. The ghost is waiting! 👻

Go to Chat: Swipe left on the camera screen to go to your chats. This is where the action starts! 💬

Find the Contact: Search for the person you want to block. It's like hunting for the perfect pancake flip! 🕵️‍♀️

Access Their Profile: Tap on their Bitmoji or name to access their profile. You're one step closer! 🎯

Tap on More: In the upper right corner, you'll see three horizontal dots. Tap on them for more options. It's like unboxing a mystery gift! 🎁

Block Away: You'll see an option labeled 'Block'. Tap on it, confirm, and bam! You've successfully blocked the contact. Congrats, you've maintained your digital peace! 🥳🚫
And that's it, folks! You've mastered the art of blocking on Snapchat. Remember, your digital space, your rules!
Breaking it Down: What Happens When You Block Someone on Snapchat 🎳🔨
Blocking someone on Snapchat comes with a few perks. Let's explore:
No More Snaps: Once blocked, the person can't snap or chat with you. You're officially off their Snapchat map! 🗺️🚫

Invisible Stories: Your stories become invisible to them. Your Snapchat stories are now your secret treasure! 🏰👻

Disappear from Their List: You disappear from their friend list, and they can't find you through search. It's like a magic trick! 🎩✨

No More Disturbance: Say goodbye to any disturbance from unwanted accounts. Your Snapchat is now your peaceful sanctuary! 🌸🌙
Bringing it Home: Reclaim Your Snapchat Experience! 🏁🎈
And there we have it! Blocking someone on Snapchat is as simple as a breeze. By following these steps, you can keep your Snapchat experience fun, enjoyable, and most importantly, comfortable. So, go on, take control of your Snapchat life and let your digital self thrive!
Bonus Tip: Unblock with Ease! 🎁🔓
Worried about permanent decisions? Fear not! Unblocking on Snapchat is just as easy. Simply navigate to your settings, find the 'Blocked' section, and unblock with a simple tap. Freedom restored! 🕊️🔓
FAQs
Q1: Can a blocked person see our previous chats?
A: Nope! Once blocked, all your chat history disappears from their view. It's like wiping the digital slate clean! 🗑️🔒
Q2: Will the blocked person know they're blocked?
A: Snapchat doesn't notify a person when they're blocked. They might realize it when they can't see your profile or interact with you. It's like a stealth operation! 🕵️‍♀️🔇
Q3: Can I block someone who isn't a friend on Snapchat?
A: Absolutely! If someone's bothering you with unwanted snaps or messages, you can block them even if they aren't in your friend list. Safety first! 🛡️👻
Before You Leave... 🍀
Blocking someone on Snapchat is a powerful feature to ensure your comfort and safety in the digital realm. Remember, your space, your rules! Follow this guide to navigate any rough Snapchat waters, and keep enjoying your snap journeys!
---
While we're on the topic of digital experiences, if you're a digital creator or consumer, be sure to explore Growerse! It's a one-stop marketplace to buy and sell digital products securely and effortlessly. Happy snapping and happy shopping! 🌐🛍️