Spruce up your Instagram Bio: A Blueprint for Attracting More Followers and Potential Customers 🚀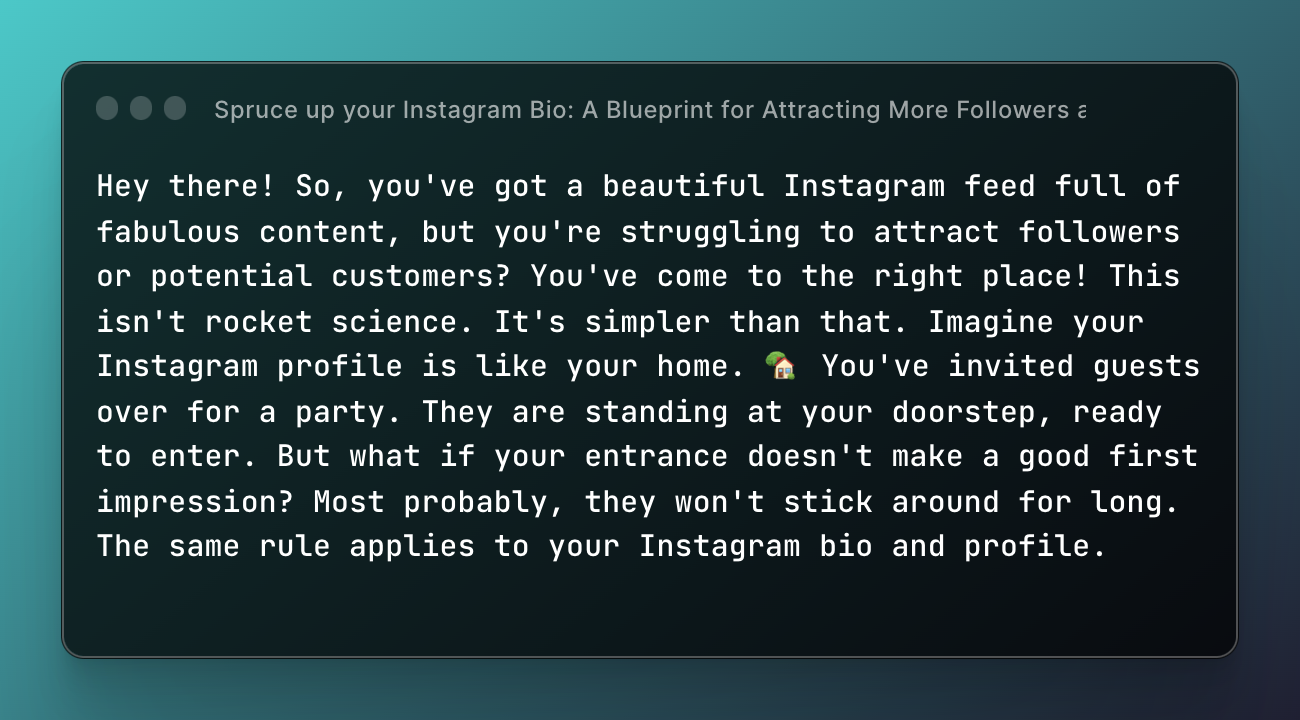 Hey there! So, you've got a beautiful Instagram feed full of fabulous content, but you're struggling to attract followers or potential customers? You've come to the right place! This isn't rocket science. It's simpler than that. Imagine your Instagram profile is like your home. 🏡 You've invited guests over for a party. They are standing at your doorstep, ready to enter. But what if your entrance doesn't make a good first impression? Most probably, they won't stick around for long. The same rule applies to your Instagram bio and profile.
Step 1: Brush up Your Instagram Bio 💼
"Your Instagram bio is like your virtual business card, so make it count!" 😎
Your Instagram bio is the first thing that a visitor will see when they land on your profile. And guess what? You've got just 150 characters to impress them. So, how can you make the most of it?
Describe Who You Are & What You Do: In the realm of Instagram, clarity is key! 🗝️ Be crisp, and concise about who you are and what you do. If you're running a business, mention your offerings, if you're a creator, hint at what you create.
Add a Unique Selling Proposition (USP): What makes you different from the rest of the Instagram crowd? It's like the secret ingredient in your grandma's recipe. Everyone's got the dish, but yours tastes special because of it. 😋
Include Relevant Hashtags and @Mentions: Just like roads lead to destinations, hashtags and @mentions can lead users to your Instagram profile. Don't go overboard, though. Keep it simple and relevant.
Use Line Breaks & Emojis: They say a picture is worth a thousand words. Emojis are no different. They can add a dash of color and fun to your bio. Also, line breaks can help you neatly structure your information.
Step 2: Leverage Your Instagram Profile Picture 📸
Ever heard the phrase, "A picture is worth a thousand words"? This is precisely why your Instagram profile picture is so important. Let's see how we can make it stand out.
Choose a Picture that Represents You or Your Brand: If you're a brand, use your logo. If it's a personal account, use a clear headshot. This isn't a spy game, so let people see who's behind the account! 👤
Ensure Consistency Across Platforms: Remember, you're building a brand image. So, make sure your profile picture is consistent across all your social media platforms.
High Quality is Non-Negotiable: This isn't the place to compromise on quality. Blurred or pixelated images can make your profile look unprofessional.
Step 3: Get Creative with Instagram Highlights 🎨
Instagram Highlights are like mini-movie trailers to your brand's cinematic universe. They can showcase your brand story, products, testimonials, and much more! So, how do we get this right?
Categorize Your Content: Think of your Instagram Highlights as folders. Organize similar Stories under one Highlight.
Design Eye-Catching Cover Icons: Like book covers, people do judge Instagram Highlights by their covers. Get creative and design attractive cover icons that make people want to click.
Keep the Titles Short and Sweet: With a 10-character limit, you need to think small. Use abbreviations, emojis, or single words that perfectly describe what's inside the Highlight.
Step 4: Optimize Your Instagram Posts 🖼️
Your Instagram posts aren't just pictures and captions. They're like mini-billboards, broadcasting your message to the world. So, how do you make sure they're saying the right things?
Maintain Consistency in Aesthetics and Themes: Pick a visual theme and stick to it. This could be a color scheme, a filter, or a specific style of photography. Consistency is key to building a recognizable brand image.
Use the Right Hashtags: Hashtags are like Instagram's GPS. They help your posts get discovered by people who don't follow you yet. Remember to keep them relevant and don't use too many.
Engage with Your Audience through Captions: Instagram isn't a one-way street. It's a bustling marketplace of ideas and conversations. So, ask questions, seek opinions, and encourage users to engage with your posts.
Wrapping Up 🎁
So there you have it, folks! A simple, yet effective blueprint to revamp your Instagram bio and profile. Always remember, the key is to be authentic, consistent, and engaging. And don't forget, this isn't a one-size-fits-all guide. Feel free to experiment and see what works best for you or your brand.
Before You Leave... 🚪
Remember, your Instagram profile is like your digital storefront. It's all about making that lasting first impression. Don't be afraid to show some personality and stand out from the crowd. After all, you're not just another face in the crowd, are you? 😉
FAQs 🔍
1. Should I include my contact information in my Instagram bio?
Absolutely! If you're a business or a creator looking to collaborate, it's a good idea to provide a way for users to get in touch.
2. What's the right number of hashtags to use in a post?
Instagram allows up to 30 hashtags per post. However, a swarm of hashtags can look spammy. A sweet spot could be anywhere between 5 to 10 relevant hashtags.
3. What kind of picture should I use for my profile?
Use a clear, high-quality photo that represents you or your brand. It could be a logo, a headshot, or even a product.
4. How frequently should I post on Instagram?
Quality over quantity! It's better to have fewer, high-quality posts than many low-quality ones. However, try to maintain a consistent posting schedule that keeps your followers engaged.
So, ready to step up your Instagram game? 🎮 Let's do it!
Growerse: Powering your journey from just another profile to a truly magnetic Instagram presence!