🎵 Spotify Username Shuffle: Changing Your Spotify Display Name in a Jiffy! 🔄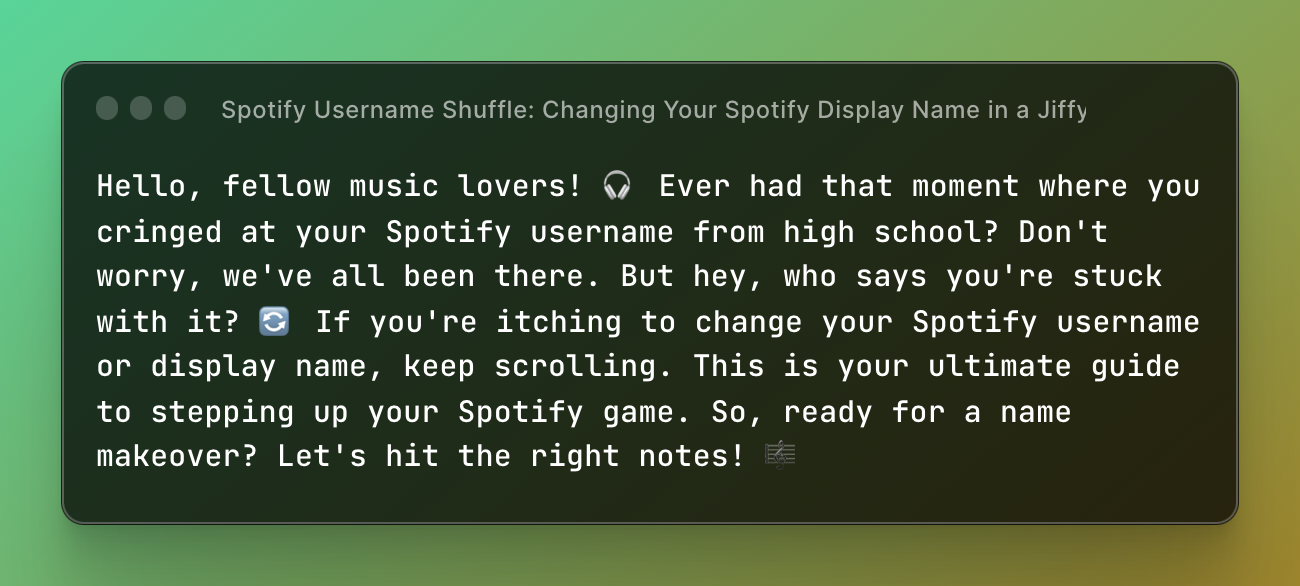 Hello, fellow music lovers! 🎧 Ever had that moment where you cringed at your Spotify username from high school? Don't worry, we've all been there. But hey, who says you're stuck with it? 🔄 If you're itching to change your Spotify username or display name, keep scrolling. This is your ultimate guide to stepping up your Spotify game. So, ready for a name makeover? Let's hit the right notes! 🎼
🕹️ What's in a Name? Understanding Spotify Usernames and Display Names
Your Spotify username is like your ID, unique and unchangeable. It's a collection of numbers and letters assigned when you sign up. But your display name? That's the fun part. It's how you present yourself to the world, and yes, you can change it. Excited? We thought so! 🥳
🎯 Step-by-Step: How to Change Your Spotify Display Name
Who said change had to be hard? With these easy steps, you'll have a fresh Spotify display name in no time:
1️⃣ Launch Spotify: Get Started
Open up your Spotify app or browser. It's where all the magic happens. 🎇
2️⃣ Dive into Settings: Locate the Right Spot
Click on your profile at the top right, then choose 'Settings.' You're getting closer! 🕵️‍♀️
3️⃣ Choose Display Name: Time to Shine
Find the 'Display Name' section, and hit 'EDIT PROFILE.' Here's where you get creative. 🎨
4️⃣ Confirm Changes: Seal the Deal
Once you're happy with your new name, just click 'SAVE' and voila! You've made your mark. 🏁
🎁 Bonus Tip: Make It Unique
Remember, your display name is your personal brand. Make it unique, make it fun, make it you. Don't be afraid to stand out from the crowd! 🌟
❓ FAQs
Q: Can I change my Spotify username? A: Unfortunately, no. Your Spotify username is permanently assigned when you create your account. But remember, you can change your display name!
Q: Is there a limit to how many times I can change my display name? A: No, there's no limit. Feel free to change your display name as often as you want!
💡 Quick Recap
1️⃣ Open Spotify and go to 'Settings' 2️⃣ Click on 'EDIT PROFILE' under 'Display Name' 3️⃣ Change your display name and hit 'SAVE'
And just like that, you've learned how to change your Spotify display name. So, what are you waiting for? Go ahead and give yourself a Spotify refresh! 🔄
📝 Before You Leave...
Don't forget, Spotify is all about expressing yourself, your moods, and your musical taste. Your display name is just another way to show off your unique style. So go ahead, be bold, be creative, and most importantly, be you. Oh, and by the way, if you're a creator looking for a platform to sell your digital products, be sure to check out Growerse. It's the ultimate digital product marketplace, and it's just waiting for you to unlock your potential. So why wait? Join the Growerse community today! 🚀