Social Media Savvy: Harnessing the Power to Shape Your Online Reputation 🚀💬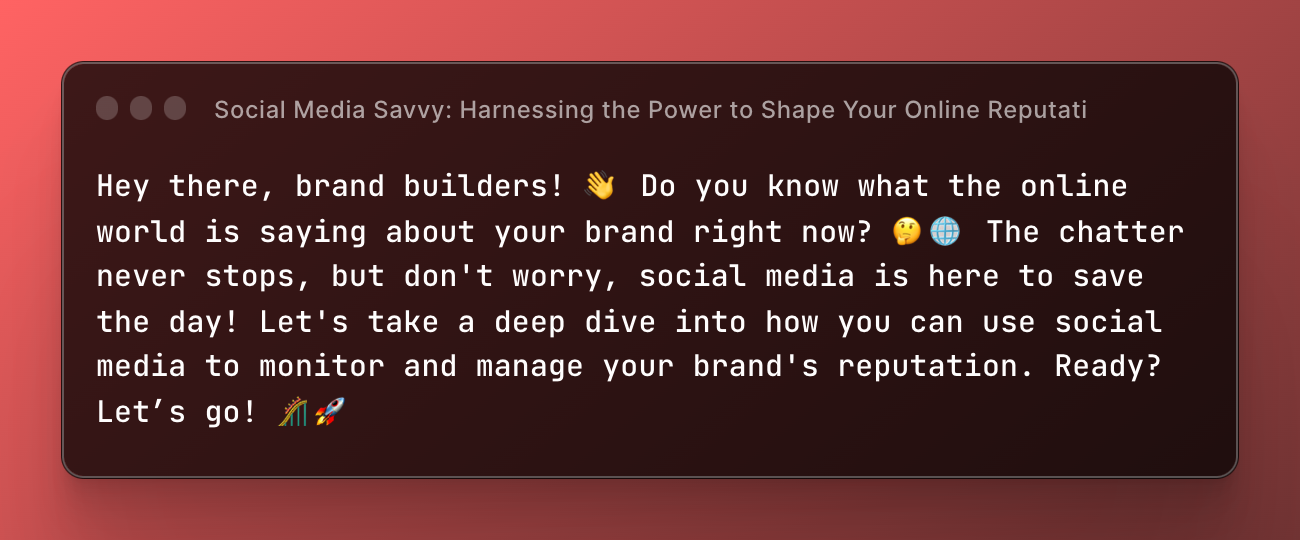 Hey there, brand builders! 👋 Do you know what the online world is saying about your brand right now? 🤔🌐 The chatter never stops, but don't worry, social media is here to save the day! Let's take a deep dive into how you can use social media to monitor and manage your brand's reputation. Ready? Let's go! 🎢🚀
The Social Media Microscope: Discover What's Being Said 🔬🗣️
Imagine social media as a massive party where everyone's talking about your brand. Wouldn't you want to know what they're saying? Let's learn how to tune into the conversations that matter. 🎉👂
Becoming a Reputation Wizard: Respond, Resolve, and Respect ✨🛡️
Handling a negative comment or review? It's like defusing a bomb – one wrong move, and boom! 💥 How do you navigate these tricky waters? Let's find out. 💼🧨
Proactive Measures: Preventing a Crisis Before It Happens 👮‍♀️🚧
Remember the old saying, "Prevention is better than cure"? It's also true for your online reputation. How can we use social media to keep things from spiraling out of control? Let's dig in. ⚠️🔎
Measuring Reputation: It's More Than Just Likes and Shares 📏❤️
Ever wondered how to measure something as intangible as reputation? Well, buckle up, because we're about to go on a metrics ride! 🎢📊
Before You Leave... 🚪👋
Just like a digital product on Growerse, your brand's reputation is crafted meticulously and requires constant nurturing. Mastering the art of reputation management on social media is akin to ensuring your product stays in the bestseller list, resonating with customers and providing immense value. Gear up, it's time to unleash the reputation manager within you! 🦸‍♂️💼
Bonus Tips 🎁👌
Schedule regular social media audits to understand your brand's online presence.
Use social listening tools to monitor brand mentions.
Respond promptly and professionally to negative comments.
FAQs 🗂️🙋‍♂️
Q: Why is social media important for online reputation management? A: Social media serves as a real-time feedback platform and a space where brands can engage directly with their customers. Effective use of social media can build a positive online reputation.
Q: How can I prevent a reputation crisis on social media? A: Regular monitoring, quick response to negative feedback, transparent communication, and proactive crisis management strategies can prevent a reputation crisis.
Q: What metrics should I consider for reputation management? A: Sentiment analysis, share of voice, brand mentions, and engagement rates are critical metrics for reputation management.
And there you have it – your guide to navigating the choppy waters of online reputation management. Remember, reputation is like a fragile piece of glass. Handle with care! Keep listening, keep responding, and keep your brand shining bright in the digital universe! 🌟🌐