Social Media Metrics 101: The Key Numbers for Success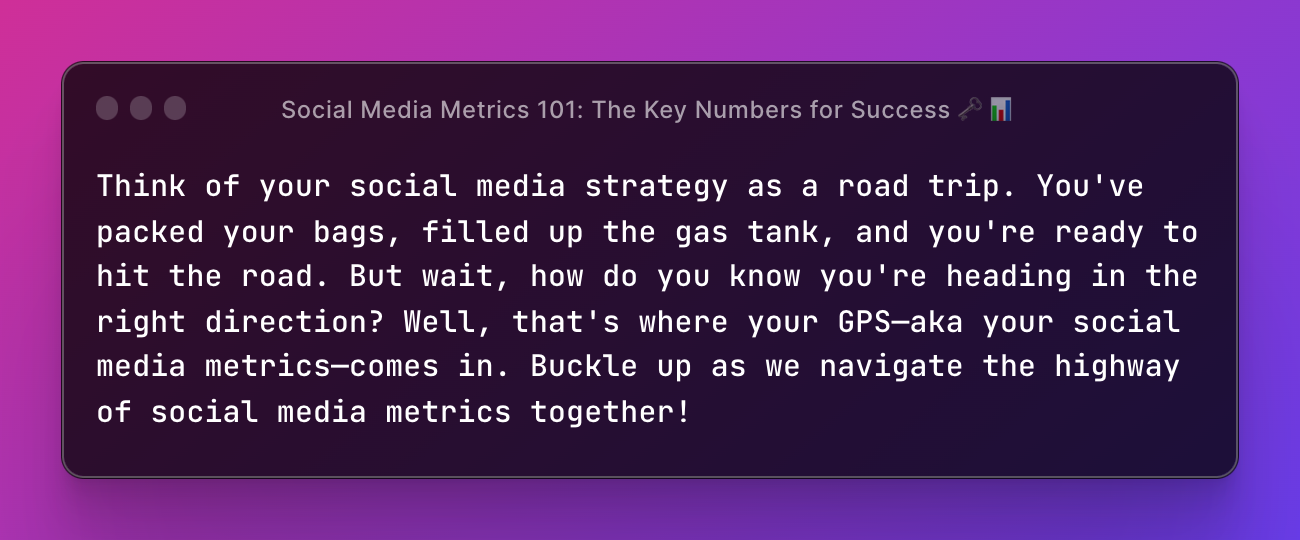 Think of your social media strategy as a road trip. You've packed your bags, filled up the gas tank, and you're ready to hit the road. But wait, how do you know you're heading in the right direction? Well, that's where your GPS—aka your social media metrics—comes in. Buckle up as we navigate the highway of social media metrics together!
Why Should You Track Social Media Metrics? 🤔
Tracking social media metrics is like having your finger on the pulse of your online presence. These numbers offer you valuable insights into how your content is performing and how your audience is interacting with your brand. Ignoring these metrics would be like driving without a map—let's not go down that road!
The Roadmap of Social Media Metrics 🗺️
The world of social media metrics might seem overwhelming, but fear not! Let's break down the key metrics you should be tracking:
1. Engagement: The Heart of Social Media 💌
Engagement is the interaction between your audience and your content. It includes likes, comments, shares, and saves. It's the "thumbs up" from your followers, indicating they like what they see!
2. Reach and Impressions: The Visibility Factor 👁️
Reach and impressions measure how many people see your content. Reach is the number of unique users who saw your post, while impressions are the total number of times your post was seen. It's like seeing your billboard on a busy highway!
3. Follower Growth: Building Your Online Community 🌱
Follower growth measures the number of new followers you gain over time. It's a strong indicator of whether your brand is resonating with people and whether your audience is expanding.
4. Click-Through Rate (CTR): The Path to Conversion 🎯
CTR is the number of clicks on your content divided by the number of impressions. It shows how effective your content is at inspiring action from your audience.
5. Share of Voice (SOV): Owning the Conversation 📣
SOV measures how much of the online conversation about a specific topic or industry pertains to your brand. It's like checking how loud your voice is in a crowded room.
Bonus Tips 💡
Eager to get the most out of your social media metrics? Here are a few bonus tips:
Use social media analytics tools to track your metrics. They provide comprehensive data and save you valuable time.
Regularly review and adjust your strategy based on your metrics.
Consider your goals when deciding which metrics to prioritize.
FAQs
Q: Which social media metrics are the most important? A: It depends on your goals. If you want to increase brand awareness, focus on reach and impressions. If you aim for more website traffic, CTR would be crucial.
Q: How often should I check my social media metrics? A: Regular check-ins, like weekly or monthly, can provide insightful trend data. However, if you're running a specific campaign, you may want to check more frequently.
Q: Can I track social media metrics across different platforms? A: Yes, most social media platforms have their own analytics. There are also third-party tools that can consolidate data across platforms.
Quick Recap 📝
Navigating social media metrics doesn't have to be tricky. Here's a quick rundown:
Track engagement to measure interaction.
Monitor reach and impressions to gauge visibility.
Watch follower growth to assess your community expansion.
Check CTR to evaluate content effectiveness.
Measure SOV to understand your brand's position in industry conversation.
Don't forget the bonus tips for extra insights!
Before You Leave 🌅
We've just mapped out the terrain of social media metrics, decoding the key figures you need to ensure your brand's social media success. It's like having a GPS for your social media strategy! Ready to start the engine and hit the road to success? We thought so!
PS: If you're looking for high-quality digital products to supercharge your social media efforts, don't forget to visit Growerse. Find everything you need to navigate the social media landscape with confidence! 🚀