Riding the TikTok Wave: Mastering Challenges and Trends for Account Growth 🏄‍♂️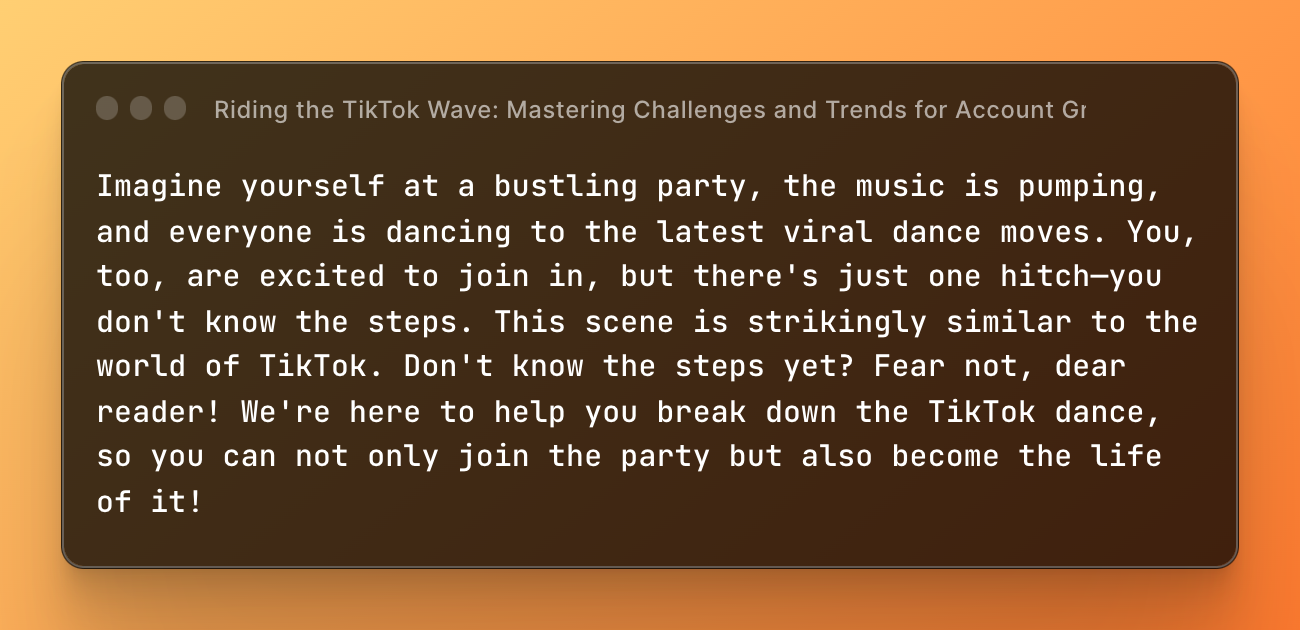 Imagine yourself at a bustling party, the music is pumping, and everyone is dancing to the latest viral dance moves. You, too, are excited to join in, but there's just one hitch—you don't know the steps. This scene is strikingly similar to the world of TikTok. Don't know the steps yet? Fear not, dear reader! We're here to help you break down the TikTok dance, so you can not only join the party but also become the life of it!
TikTok Challenges and Trends: The Heartbeat of the Platform 💖
Let's get real here: TikTok isn't just an app—it's a culture. And what's at the heart of this culture? Trends and challenges. These viral phenomena are like the latest dance crazes; everyone's doing them, and everyone's watching them. Participating in these can significantly boost your visibility, reach, and following on the platform.
Dancing to the TikTok Rhythm: Your Guide to Success 🕺💃
Becoming a TikTok trendsetter isn't as complicated as you might think. Here's a step-by-step guide to help you master TikTok challenges and trends:
1. Keep Your Eyes Open 👀
The TikTok landscape is ever-changing, with new trends popping up like wild mushrooms after a spring rain. So, always keep a lookout for the latest trends. Pay attention to your 'For You' page, follow popular creators, and track trending hashtags.
2. Jump on the Bandwagon Quickly 🏃‍♂️
In the world of TikTok, timing is everything. Trends can come and go faster than a blink of an eye. When you spot a trend you like, don't hesitate to jump right in. Being early gives you a chance to ride the wave to its fullest!
3. Stay True to You 🤗
While it's essential to follow trends, don't forget to infuse your own style into them. Your unique personality and creativity are what will make your content stand out in the sea of TikTok videos.
4. Engage with Your Audience 🤝
TikTok isn't just about posting videos—it's a community. Engage with your viewers through comments and duets. Your interaction can turn viewers into followers, and followers into a loyal fanbase.
5. Review and Repeat 🔄
Regularly analyze your TikTok metrics to understand what's working and what's not. Use these insights to improve your future content and grow your account.
Bonus Tips 🎁
Eager to go the extra mile on TikTok? Here are some bonus tips for you:
Use trending songs in your videos. They can help you attract more views.
Make use of TikTok tools and effects. They add a fun twist to your content.
Collaborate with other TikTok creators. It can help you reach a broader audience.
FAQs
Q: Can I create my own TikTok challenge or trend? A: Absolutely! If you have a unique and engaging idea, go for it. Your challenge might just be the next big thing on TikTok!
Q: How can I find trending hashtags? A: You can find trending hashtags on the 'Discover' page. They usually appear at the top.
Q: Is participating in every TikTok trend necessary? A: No, not at all. It's essential to choose trends that align with your brand and your audience's interests. Authenticity always wins on TikTok.
Quick Recap 📝
Ready to ace TikTok challenges and trends? Remember:
Stay updated with the latest trends.
Participate in trends quickly.
Add your unique flair to your videos.
Engage with your audience.
Regularly review your performance.
And don't forget those bonus tips for an extra push!
Before You Leave 🌈
We've just ventured through the vibrant world of TikTok challenges and trends. Now you're equipped with the knowledge to not only participate in the dance but also to stand out in the crowd.
Just imagine, your next TikTok video could be the one that goes viral, catapulting you into the TikTok stratosphere! Are you excited to hop on the TikTok trend train? We bet you are! Happy TikToking!
PS: If you're looking for high-quality digital products to enhance your online presence or your TikTok account, check out Growerse - your ultimate destination for the finest digital products on the internet! 🚀