Navigating the Copyright Maze: Safeguarding Your Facebook Content 🛡️📚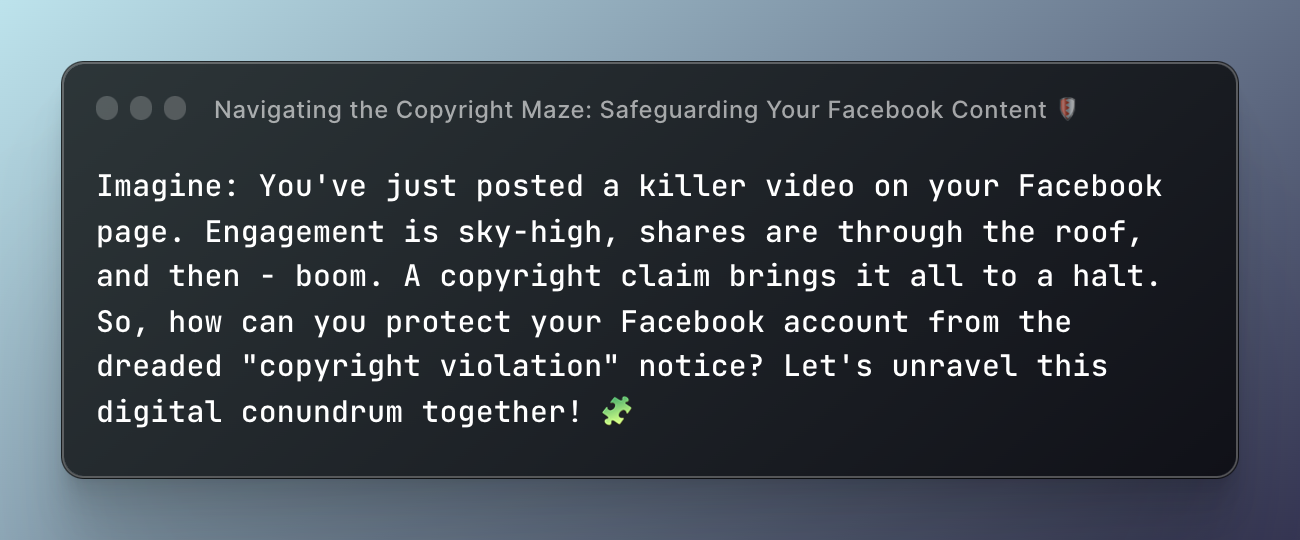 Imagine: You've just posted a killer video on your Facebook page. Engagement is sky-high, shares are through the roof, and then - boom. A copyright claim brings it all to a halt. So, how can you protect your Facebook account from the dreaded "copyright violation" notice? Let's unravel this digital conundrum together! 🧩
Understanding Facebook's Copyright Policy 📜🔍
First, let's demystify what Facebook means by "copyright." In essence, copyright refers to the legal rights creators have over their original work. Unpermitted use of someone else's content could lead to a violation.
Your Guide to a Copyright-Compliant Facebook Profile 🛡️🔐
Safeguarding your Facebook content against copyright claims may seem daunting, but it doesn't have to be. Here are some simple strategies to keep you on the safe side.
1. Create Original Content 🎨
The easiest way to avoid copyright issues? Be original! Creating your own content not only safeguards you against copyright claims, it also helps establish your brand's unique voice.
2. Understand Fair Use 🎭
"Fair use" is a legal doctrine that permits limited use of copyrighted material without permission. However, it's a complex law and open to interpretation, so always tread carefully!
3. Seek Permission 📨
Want to use someone else's content? Just ask! Many creators are happy to grant permission as long as they're credited.
4. Licensed to Post 📃
Consider using licensed material that's intended for sharing. There are many resources that offer royalty-free music, images, and videos you can safely use.
5. Responding to Copyright Claims 🔄
If you do receive a copyright claim, don't panic! Facebook has a dispute process you can follow to resolve the issue.
Bonus Tips 🎁
Familiarize yourself with Facebook's Community Standards.
When in doubt, consult with a legal professional.
FAQs
Q: What happens if I receive a copyright violation notice on Facebook? A: If your content is removed due to a copyright violation, Facebook will notify you and give you the option to dispute the claim.
Q: Can I use copyrighted music in my Facebook videos? A: Facebook has strict rules on using copyrighted music. To avoid violation, consider using Facebook's Sound Collection, which provides a library of royalty-free tracks.
Q: How can I dispute a copyright violation? A: If you believe your content was removed by mistake, you can submit an appeal via Facebook's Help Center.
Quick Recap 📝
Let's do a quick rundown of how to keep your Facebook content copyright-compliant:
Stick to creating original content.
Understand and respect the rules of fair use.
Always seek permission for using someone else's content.
Use licensed or royalty-free resources.
Respond calmly and promptly to copyright claims.
Remember our bonus tips, too, for extra protection!
Before You Leave 👋
Navigating Facebook's copyright rules might feel like tip-toeing through a minefield, but with some knowledge and caution, you can post confidently and fearlessly. Ready to make Facebook a safer place for your brand? We're sure you are!
PS: Want to equip yourself with top-notch digital resources to boost your Facebook content? Head over to Growerse, your trusted marketplace for premium digital products!