Mastering YouTube Branding: Your Comprehensive Guide to Gain More Subscribers and Viewers 🚀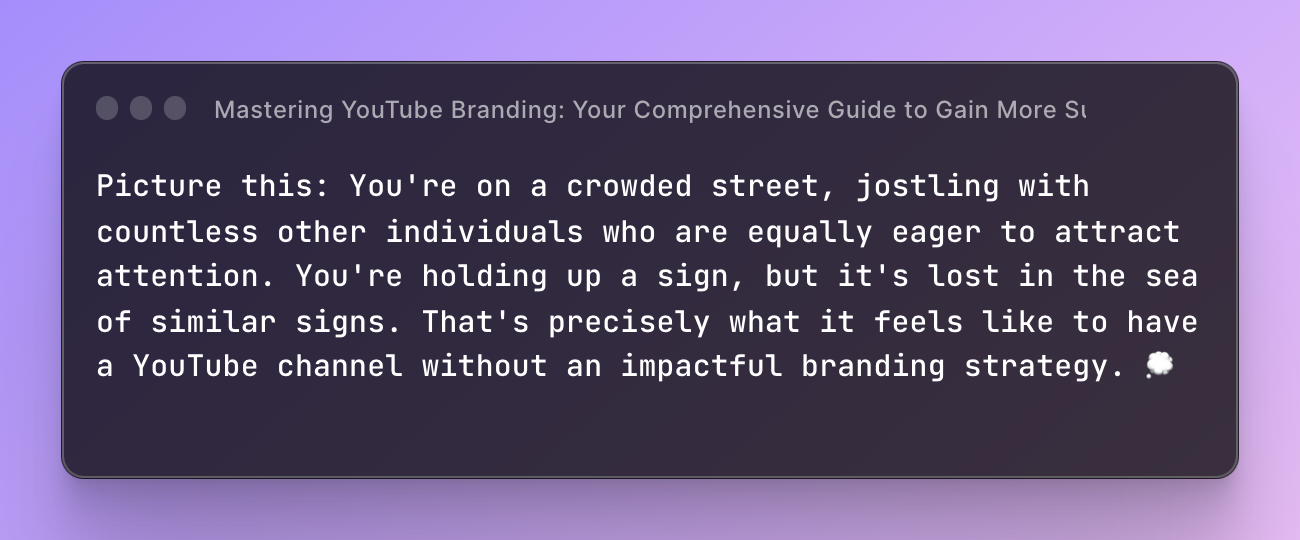 Picture this: You're on a crowded street, jostling with countless other individuals who are equally eager to attract attention. You're holding up a sign, but it's lost in the sea of similar signs. That's precisely what it feels like to have a YouTube channel without an impactful branding strategy. 💭
So, you're probably thinking, "How can I make my YouTube channel stand out from the crowd and attract more subscribers and viewers?" Well, you've come to the right place! Let's dive into how you can jazz up your YouTube channel's branding and visual identity. 🏊‍♂️🎨
1. A Picture is Worth a Thousand Subscribers 🖼️🔥
Just as we're more likely to remember someone's face than their name, a visually striking logo or channel art can significantly boost your brand recognition. Your channel logo and banner are your channel's 'face', and you want to ensure they are as memorable as possible. Think of them as your YouTube channel's version of a peacock's tail - the brighter and more distinctive, the better! 🦚
2. Consistency is Key 🔑🔄
Imagine you're a master detective 🔎 (like Sherlock Holmes, maybe?), solving the mystery of a brand's identity across different platforms. Would you be able to recognize your YouTube channel on other social media platforms? Consistent branding across platforms - using the same logo, colors, and typography - is as crucial as the alibi in a detective story. 🕵️‍♂️
3. Storytelling Through Thumbnails 📖👍
What if I told you that your thumbnails are like mini movie posters? 🎬 Well, they are! Thumbnails have the power to convey a story and set viewer expectations about your video content. An engaging and high-quality thumbnail can be the deciding factor between a viewer clicking on your video or scrolling past it. 🖱️💨
4. Video Intro and Outro: The Alpha and Omega 🎬🔄
Your video intro and outro are the 'Hello' and 'Goodbye' of your YouTube channel. A well-designed intro sets the tone for your video, and a memorable outro encourages viewers to subscribe, like, and share. Think of them as the bread of a sandwich - without them, things can get pretty messy! 🥪
5. Your Channel Trailer: The Red Carpet 🎥🌟
Imagine your channel trailer as the red carpet leading to the grand entrance of your channel's movie premiere. It's your chance to dazzle your audience and make a lasting impression. Highlight your best work, your unique selling points, and don't forget to ask for a subscription! After all, the spotlight is all yours! 💡🎩
Bonus Tips: Because Who Doesn't Love Bonuses? 🎁💡
YouTube SEO: Just like you'd use a GPS to navigate unfamiliar terrain, using keywords, tags, and video descriptions can help viewers navigate to your content.

Social media cross-promotion: Let's face it, who doesn't love a good party? 🎉 Consider your YouTube channel as one venue of a sprawling social media party. Cross-promote your content to invite more guests!

Community interaction: A successful YouTube channel is not just about the number of subscribers, but about building a community. Engage with your audience through comments and live chats.
Frequently Asked Questions 🙋‍♂️📝
1. How often should I post new videos? There's no one-size-fits-all answer to this. The frequency can depend on your content, audience, and personal schedule. However, consistency is key. Choose a frequency that you can comfortably maintain.
2. Should I invest in professional equipment right away? It's not about the equipment; it's about the content. Start with what you have and focus on producing high-quality content. As your channel grows, you can consider upgrading your equipment.
3. How can I monetize my YouTube channel? There are various ways to monetize your YouTube channel, such as ad revenue, channel memberships, merchandise shelf, and more. However, remember to focus primarily on creating engaging content and building an audience.
Before You Leave: The Quick Recap 🏃‍♂️💨
Branding your YouTube channel is a bit like running a marathon. It's a long-term game that requires consistency, patience, and persistence. Keep your channel art and thumbnails visually compelling, maintain branding consistency across platforms, create engaging intros and outros, and roll out a red carpet-like channel trailer. Finally, remember the bonus tips and the FAQs to steer clear of common hurdles. 🏁🎖️
Before you leave, remember: The journey of a thousand miles begins with a single step. The same goes for your YouTube branding journey - start small, stay consistent, and always remember: you've got this! 💪🔥
Now that you're armed with these insights, go ahead and give your YouTube channel the glow-up it deserves! 🌟🚀
And remember, if you ever need digital products to boost your branding efforts, Growerse is your one-stop-shop for high-quality digital goods! 🌐💼