🚀 Mastering Telegram: Your Guide to Changing Your Username in a Snap! 🎯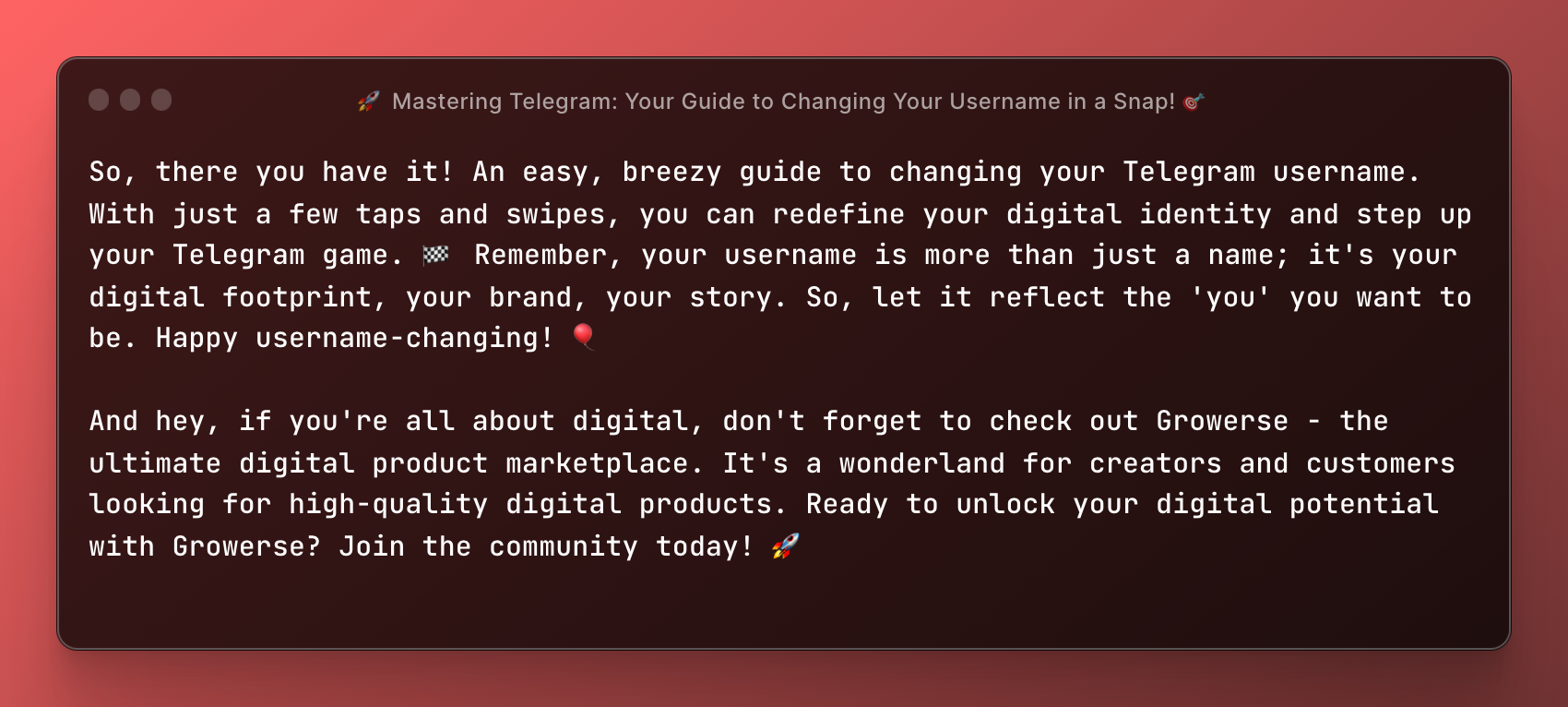 Hey there! 😎 If you've been wrestling with the idea of changing your Telegram username but aren't sure where to start, you've hit the bullseye with this guide. No more fumbling around in the dark. Let's jump right in, shall we? 🚀
👀 Why Change Your Telegram Username Anyway?
We all evolve, and so should our digital identities. Be it that you've outgrown your old username, want a fresh start, or need a name that resonates better with your persona, it's all about being the 'you' you want to be! 💪 After all, why stick to a username that doesn't ring a bell? So, buckle up, because it's time to revamp your Telegram profile! 🔄
🎯 How to Change Your Telegram Username: The Easy Peasy Way
Changing your Telegram username is as simple as pie! 🥧 Just follow these no-sweat steps, and voila! You'll have a shiny new username in a jiffy!
1️⃣ Open Your Telegram App
On your phone or your computer, it's as simple as tapping or clicking on the Telegram icon. 📱💻 It's your doorway to the journey of transforming your online identity!
2️⃣ Tap on the Three Horizontal Lines
On the top left corner of your screen, you'll find three horizontal lines. Consider these your magical doorway. Give it a tap! 🚪
3️⃣ Head to Settings
In the sidebar that appears, you'll find the 'Settings' option. Don't hesitate! Dive right in! 🏊‍♂️
4️⃣ Tap on Edit Profile
Within 'Settings', you'll find an option that says 'Edit Profile'. Here's where the transformation begins. Onwards to glory! 🏆
5️⃣ Change Username
In the 'Edit Profile' section, there's a username field with your current name. Time for the big move! Erase your old username, type in your shiny new one, and tap 'Save'. And just like that, you're a whole new you! 🎉
🎁 Bonus Tip: Crafting the Perfect Username
While we're at it, why not add a bit of dazzle to your new username? 😍 Try incorporating your interests, hobbies, or personality traits. Keep it unique and memorable. After all, your username is your online handshake, so make it count! 🤝
❓ FAQs
Q: What if the username I want is already taken? A: Ah, the perils of late creativity! If your desired username is taken, you'll have to try another one. Remember, every username on Telegram is unique.
Q: Is there a limit to how many times I can change my Telegram username? A: Nope! Change as often as you want! The world of Telegram is your oyster!
Q: Can I use special characters in my username? A: Yes, you can use underscores and numbers, but no spaces or other special characters.
💡 Quick Recap
Let's rewind a bit! 🔄 To change your Telegram username:
1️⃣ Open your Telegram app 2️⃣ Tap on the three horizontal lines 3️⃣ Go to Settings 4️⃣ Tap on Edit Profile 5️⃣ Change your username
Piece of cake, right? 🍰
📝 Before You Leave...
So, there you have it! An easy, breezy guide to changing your Telegram username. With just a few taps and swipes, you can redefine your digital identity and step up your Telegram game. 🏁 Remember, your username is more than just a name; it's your digital footprint, your brand, your story. So, let it reflect the 'you' you want to be. Happy username-changing! 🎈
And hey, if you're all about digital, don't forget to check out Growerse - the ultimate digital product marketplace. It's a wonderland for creators and customers looking for high-quality digital products. Ready to unlock your digital potential with Growerse? Join the community today! 🚀