Harnessing Social Media to Boost Local Search Visibility and Reputation 🚀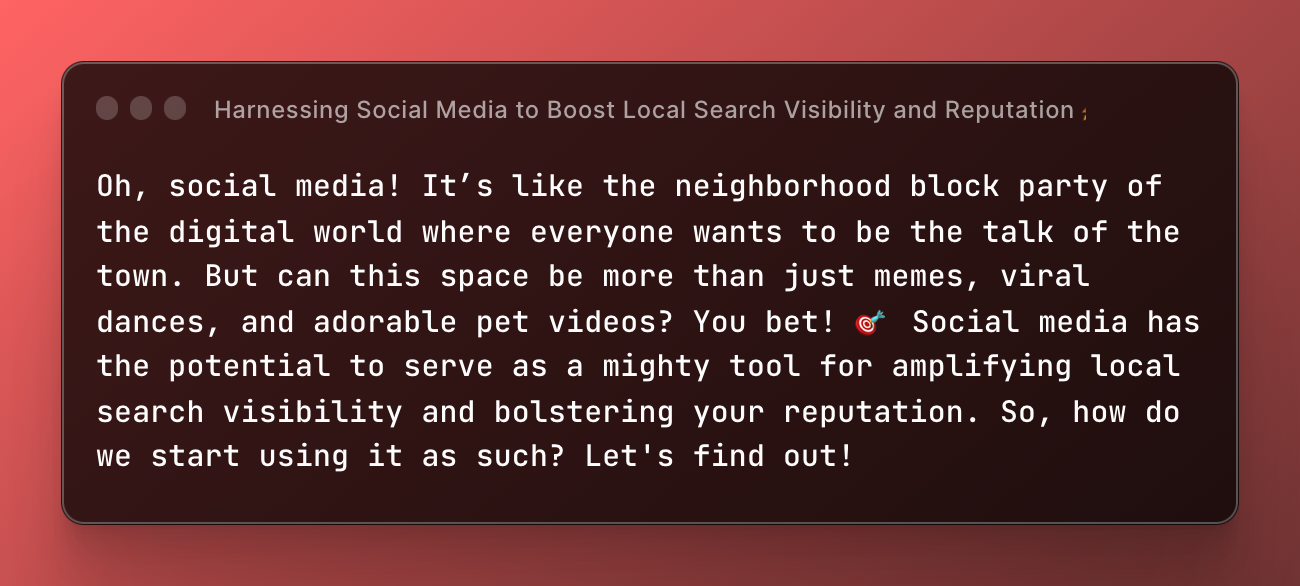 Oh, social media! It's like the neighborhood block party of the digital world where everyone wants to be the talk of the town. But can this space be more than just memes, viral dances, and adorable pet videos? You bet! 🎯 Social media has the potential to serve as a mighty tool for amplifying local search visibility and bolstering your reputation. So, how do we start using it as such? Let's find out!
Let's Talk Social Media: Not Just a Pretty Face 😊
Social media is like a Swiss Army knife. It's a multipurpose tool with countless capabilities, one of them being SEO (Search Engine Optimization). Just like your morning coffee boosts your energy, social media can provide a significant boost to your local search visibility. But how? 🤔
Picture this: You own a coffee shop in Seattle. When someone nearby Googles "best coffee in Seattle," you want your shop to pop up first, right? That's where social media swoops in to save the day!
Unleashing the Power of Local SEO 🎯
Local SEO is like your friendly neighborhood Spider-Man. It saves your day by ensuring your business is found by local searchers on Google, just when they need you. The question is - how can you be their Spider-Man? 🕸️
Utilize Local Keywords 📝
Keywords are like the secret code words to unlock Google's attention. If you're a Seattle-based coffee shop, including keywords like 'Seattle Coffee Shop' or 'Best Coffee in Seattle' in your social media posts and profiles can be a game-changer! Google can pick up on these and presto, you're climbing the search ladder!
Engage With Your Audience 🤝
Engagement on social media is like the applause at the end of a Broadway show. The more the claps, the higher the appreciation. So, respond to comments, like posts, share user-generated content and make your audience feel seen and heard. This builds reputation and visibility simultaneously. Google loves it when people love you!
Beyond Google: Social Media Platforms as Search Engines 🔍
Facebook, Instagram, Twitter - these aren't just platforms for posting pictures of your brunch. They're increasingly being used as search engines. So, imagine someone craving a steaming espresso types "best coffee in Seattle" into Instagram's search bar. Wouldn't you want your delightful latte art photos to pop up?
To make this happen, ensure that you use platform-specific features like Instagram hashtags, Facebook check-ins, and Twitter moments. Treat each platform as its own unique stage, with its own unique audience.
Foster a Stellar Online Reputation 🌟
A good reputation is like the golden ticket to success. And there's no better way to build this than through social media. Showcase happy customers, share positive reviews, and address any negative feedback promptly and politely. This transparency shows potential customers that you're reliable and trustworthy, encouraging them to choose you over competitors.
Conclusion: It's a Social Media World! 🌐
In a nutshell, social media can be your secret weapon for boosting local search visibility and creating a stellar reputation. So why not take the plunge and dive into this digital pool? After all, the world is social, and your business should be too!
Bonus Tips: Keep it Up! 👍
Consistency is key. Keep posting, engaging, and optimizing to stay in the limelight.
Make use of all available features on each platform. You never know what might make you go viral!
Always keep your audience in mind. After all, you're doing this all for them!
FAQs
1. Is it necessary to be on all social media platforms? No, it's best to pick platforms where your target audience is most active.
2. How often should I post on social media for maximum SEO benefits? While there's no set rule, a consistent posting schedule is beneficial.
3. Can I use the same content across all platforms? You can, but tailoring content to suit each platform's specific format and audience is usually more effective.
Before you leave...
Remember, social media is not just for sharing funny memes or your vacation pictures. It's a powerful tool that can enhance your local search visibility and reputation significantly. So go ahead, roll up your sleeves and get your social media magic brewing! ☕🎩
After all, a more connected world is just a post away! Isn't that something?
---
Do you know what else is a valuable tool in the digital world? Growerse! The ultimate digital product marketplace where creators and customers can easily buy and sell digital products. A vast catalog, transparent pricing, secure payments, and regular updates make it an unmissable platform for all your digital needs. So, don't forget to check out Growerse and unlock your potential with the finest digital products, all in one place.