🎯 Finding Your Social Sweet Spot: How to Choose the Right Social Media Platform for Your Business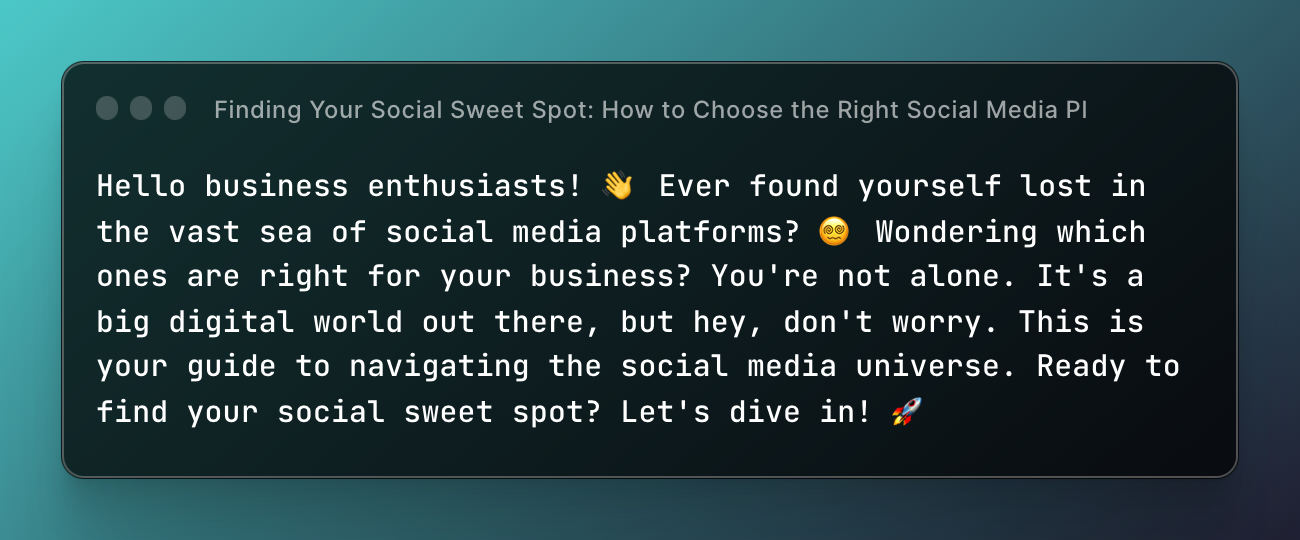 Hello business enthusiasts! 👋 Ever found yourself lost in the vast sea of social media platforms? 😵‍💫 Wondering which ones are right for your business? You're not alone. It's a big digital world out there, but hey, don't worry. This is your guide to navigating the social media universe. Ready to find your social sweet spot? Let's dive in! 🚀
🎲 Playing the Social Media Game: Understanding Your Business Needs
Choosing the right social media platform for your business isn't a guessing game. It's about understanding your business needs and aligning them with the unique strengths of each platform. 🎯 So, let's begin by understanding what makes each platform tick.
💼 Business Types and Social Media: A Match Made in Digital Heaven
Not every social media platform is a perfect fit for every business type. Some platforms excel in B2B communication, while others are great for B2C interactions. Let's break it down:
1️⃣ LinkedIn: The Formal Reception 🤝
Perfect for B2B businesses and professional networking. Think of it as a formal reception where business cards are exchanged.
2️⃣ Instagram and Pinterest: The Art Galleries 🎨
Ideal for businesses that have visually appealing products or services. It's like an art gallery showcasing your beautiful work.
3️⃣ Facebook and Twitter: The Community Centers 🏘️
Great for almost all types of businesses, they're like community centers where everyone gathers and information is shared.
4️⃣ YouTube and TikTok: The Entertainment Stages 🎭
Fantastic for businesses with engaging video content. Consider them your stages to entertain and inform.
👥 Know Your Audience: Where Do They Hang Out?
To find your audience, you need to know where they hang out. Are they busy professionals on LinkedIn? Or are they trendy youths scrolling through TikTok? Understanding your target audience's habits can guide you to the right platform. 🕵️‍♀️
🎁 Bonus Tip: Don't Overstretch
Remember, it's better to be effective on a few platforms than ineffective on many. Choose your platforms wisely and give them the attention they deserve. 🏆
❓ FAQs
Q: Do I need to be on every social media platform? A: Not necessarily. It's more important to choose platforms where your target audience is active and engage with them effectively.
Q: What if my business is suited to multiple platforms? A: That's great! Just ensure you have the resources to manage and engage effectively on each platform.
💡 Quick Recap
1️⃣ Understand your business needs and align them with the strengths of each platform 2️⃣ Identify where your target audience spends their time on social media 3️⃣ Choose the platforms that best suit your business and audience
Congratulations, you're now better equipped to navigate the social media landscape and find the best platform for your business! 🎉
📝 Before You Leave...
Remember, the right social media platform can boost your business's online presence, but it's only a part of your digital strategy. Keep exploring, learning, and adapting in this digital world. And speaking of digital, if you're looking for a platform to buy or sell digital products, check out Growerse. From easy order tracking to a user-friendly interface, Growerse is packed with features to give you a top-notch experience. Join the Growerse community today and discover the world of possibilities waiting for you! 🌐