Farewell Telegram Channel: A Step-by-Step Guide on Deleting Your Channel 📴🚀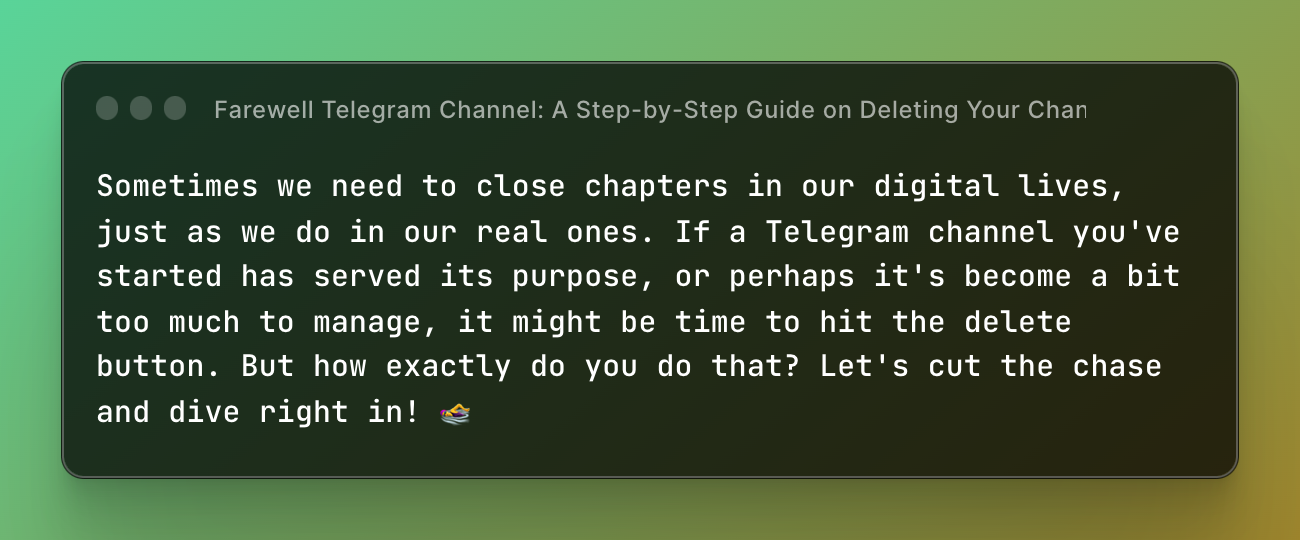 Sometimes we need to close chapters in our digital lives, just as we do in our real ones. If a Telegram channel you've started has served its purpose, or perhaps it's become a bit too much to manage, it might be time to hit the delete button. But how exactly do you do that? Let's cut the chase and dive right in! 🏊‍♀️
A Quick Run-Through: What's a Telegram Channel? 📡💭
Before we go about deleting, let's make sure we're all on the same page. A Telegram channel is a tool for broadcasting public messages to large audiences.
Guide to Deleting Your Telegram Channel 📴👋
If you're sure about saying goodbye to your Telegram channel, here's a simplified, step-by-step guide to help you along:
1. Access Your Channel 🚪🏃‍♂️
The first step? Navigate to your channel. You can do this by opening the Telegram app and clicking on your channel from the chat list.
2. Open Channel Info 💡📖
Next, head to the top of the screen where the channel's name is displayed and click on it. This will take you to the "Channel Info" section.
3. Head to 'Manage Channel' ⚙️👨‍💼
In the "Channel Info" section, find and select "Manage Channel."
4. Click 'Delete Channel' 🗑️👆
Within "Manage Channel," you should see a "Delete Channel" option. Click on it. A confirmation box will pop up.
5. Confirm Deletion ✔️🔚
Finally, confirm the deletion. Voila, your channel is now deleted!
Bonus Tips 🎁
Be sure: Deleting a Telegram channel is permanent, so be sure you're ready to bid adieu.

Transfer ownership: If you're not ready for a total goodbye, consider transferring the channel to someone else.
FAQs
Q: Is deleting a Telegram channel permanent? A: Yes, once you delete a channel, it's gone for good.
Q: Can I recover a deleted Telegram channel? A: No, once deleted, you can't recover a channel. It's a one-way trip.
Q: Can I transfer my channel to someone else instead of deleting it? A: Yes, Telegram allows you to transfer channel ownership to another user.
Quick Recap 📝
In a hurry? Let's do a quick review:
Navigate to your Telegram channel.
Open the "Channel Info" section.
Select "Manage Channel."
Click on "Delete Channel."
Confirm the deletion.
And remember those bonus tips for smooth sailing!
Before You Leave 👋
Dealing with digital platforms can sometimes feel like wandering through a dense forest, but remember, every path has its signs! Navigating Telegram's features can be just as straightforward if you know where to look.
Got other digital challenges on your plate? Head over to Growerse, the ultimate digital marketplace, where you can buy and sell digital products effortlessly. Equip yourself with top-notch resources, and let your digital journey be as smooth as a breeze! 🍃💻