Discord Name Colors: A Brushstroke of Personality on Your Discord Profile 🖌️🎨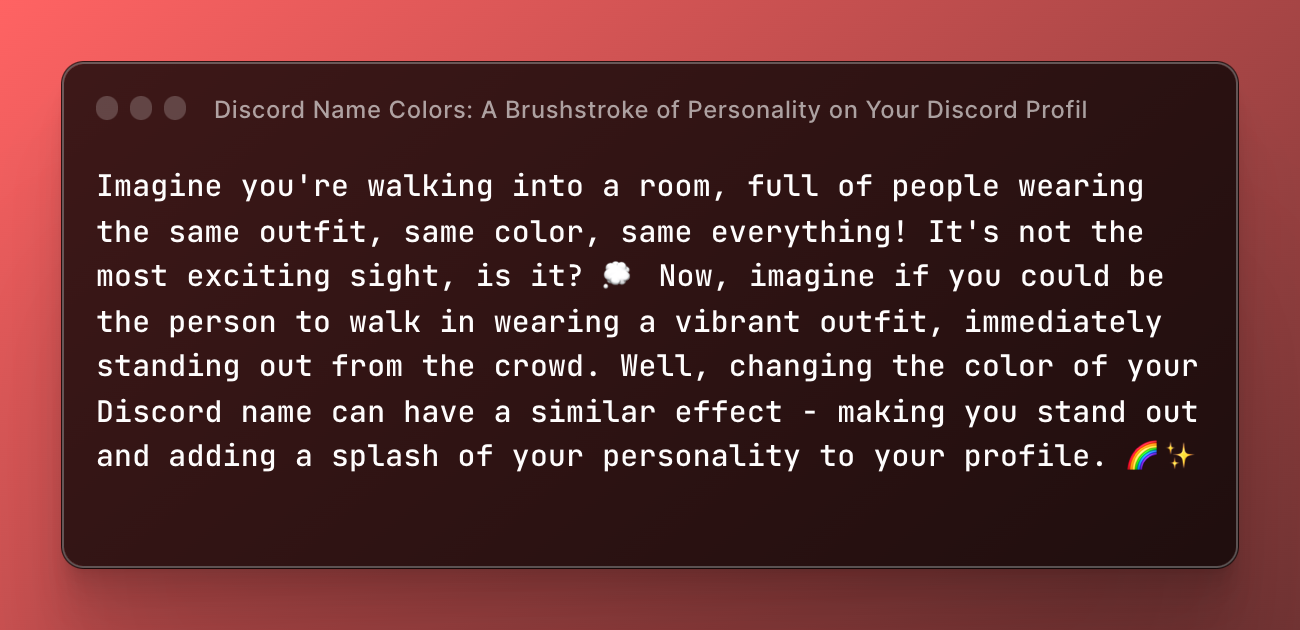 Imagine you're walking into a room, full of people wearing the same outfit, same color, same everything! It's not the most exciting sight, is it? 💭 Now, imagine if you could be the person to walk in wearing a vibrant outfit, immediately standing out from the crowd. Well, changing the color of your Discord name can have a similar effect - making you stand out and adding a splash of your personality to your profile. 🌈✨
1. Let's Paint: The Role of Roles 🖌️🌈
To change the color of your Discord name, you need to understand Discord's roles and permissions system. Think of roles like paintbrushes 🖌️, each with its own color. Assigning a role is like painting a user with a particular color, changing the color of their name in the process. Isn't it fascinating how a few tweaks can brighten your profile? 🤔
2. How to Create Roles: Your Color Palette 🎨🔄
Creating a role is as simple as mixing colors on a palette. Go to your server settings, find 'Roles', and voila, you're ready to start mixing your colors! Name your role, select a color, and assign permissions. It's like painting, but with a digital twist! 🎨💻
3. How to Assign Roles: Painting the Canvas 🎨🖌️
Assigning a role to a user is like choosing which color to paint your canvas with. Right-click on a user's name, click on 'Roles', and choose the color you want to paint them with. It's as easy as picking up a brush and stroking it on a canvas. 🖼️
4. Aesthetic Considerations: It's Not Just a Color 🎭👁️
Just like how the aesthetic appeal of a painting isn't solely defined by its colors, the appeal of your Discord profile isn't only about the color of your name. Consider your profile picture, status, and overall behavior on the platform as integral parts of your aesthetic appeal. After all, an artist isn't judged solely by their paintbrush, right? 🎨🖼️
Bonus Tips: Let's Add Some Glitter ✨💡
Emojis in Role Names: You can add emojis to your role names for that extra flair. It's like adding glitter to your painting!

Role Hierarchy: Remember, Discord follows a hierarchy. The color of the highest role in the list will be the one that's displayed. So, keep your color palette organized!

Unique Color for Each Member: If you're an admin, you could give each member a unique color. It'd be like having a personalized palette for each artist in a studio!
Frequently Asked Questions 🙋‍♂️📝
1. Can I change the color of my Discord name without admin permissions? Unfortunately, no. Only admins or users with 'manage roles' permissions can create and assign roles, which includes changing name colors.
2. Is it possible to have a multi-colored Discord name? As of now, Discord does not support multi-colored names. You can only assign one color per role.
3. Can I change the color of my name on mobile? Yes, you can! The process is the same as on desktop. Just navigate to your server settings, create or edit roles, and assign them accordingly.
Before You Leave: The Quick Recap 🏃‍♂️💨
Changing the color of your Discord name is an art, blending understanding of roles and permissions with aesthetic appeal. Remember to create roles thoughtfully, assign them carefully, and maintain your profile aesthetic beyond just your name color. Consider the bonus tips, keep the FAQs in mind, and paint your Discord profile with your personality!
Before you leave, remember: Art isn't about perfection; it's about expression. Similarly, your Discord profile isn't about the perfect name color; it's about expressing your unique personality. So, go ahead, pick up that digital brush, and start painting your profile! 🎨🚀
And if you're ever looking for digital products to enhance your online presence, don't forget to check out Growerse - your go-to marketplace for top-notch digital goods. Unlock your potential with the finest digital products, all in one place! 🌐💼