Crafting a Robust Social Media Policy: Your Business Playbook 📚🛠️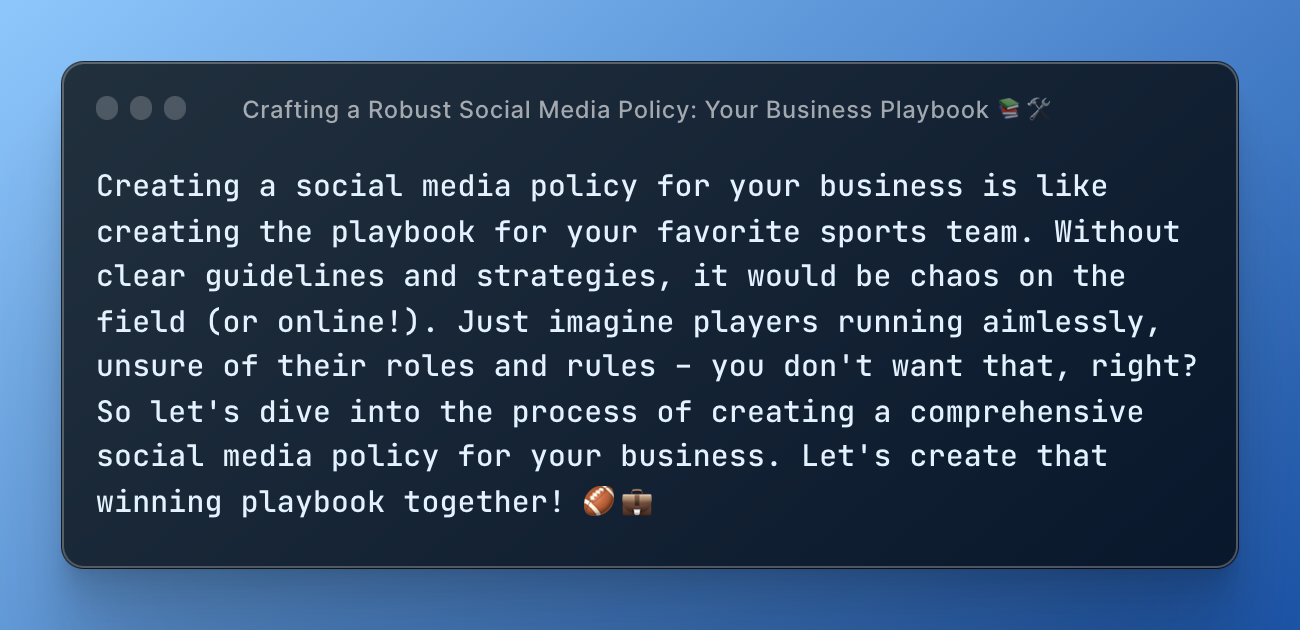 Creating a social media policy for your business is like creating the playbook for your favorite sports team. Without clear guidelines and strategies, it would be chaos on the field (or online!). Just imagine players running aimlessly, unsure of their roles and rules – you don't want that, right? So let's dive into the process of creating a comprehensive social media policy for your business. Let's create that winning playbook together! 🏈💼
1. Outline Your Goals: The Game Plan 🎯
The first step in creating a social media policy is to identify what you hope to achieve with your social media presence. Is it to boost brand awareness, engage customers, or perhaps to support sales? Having clear goals is like having a solid game plan before the big match. You wouldn't go into the game without one, would you? 🏆📈
2. Define Roles and Responsibilities: Assigning the Players ⚽🥅
Once you have your goals, it's crucial to establish who is responsible for what. Like deciding which player plays defense or offense, having clear roles and responsibilities prevents confusion and ensures your team works seamlessly towards your goals. 🎽🔄
3. Set Clear Guidelines: The Rulebook 📖🛠️
Your social media policy should define acceptable behavior and outline procedures for handling potential problems. It's like having a rulebook that players can refer to during the game to know what's expected of them and how to handle fouls. Clear guidelines keep everyone on the same page. 📚🔍
4. Address Security and Privacy: Defense Tactics 🕵️‍♀️🔐
Just like a solid defense is crucial in any sport, protecting your business's and customers' information is vital. Your policy should outline practices for ensuring online security, protecting privacy, and handling any potential breaches. It's your defense strategy in the digital arena. 🛡️⚠️
Bonus Tips: Extra Strategy for Your Playbook 🎁💡
Regular Reviews: Keep your policy up to date with the latest social media trends and legal requirements. It's like updating your playbook with new strategies each season.

Training Sessions: Ensure all your team members understand and can implement the policy. Training is just as important as having a playbook.

Embrace Feedback: Encourage your team members to provide feedback on the policy. It's like a post-game analysis that helps improve your strategies.
Frequently Asked Questions 🙋‍♂️🔍
1. Should every team member have access to our social media accounts? Not necessarily. Like assigning specific roles in a sports team, you should carefully choose who has access to your social media accounts based on their roles and responsibilities.
2. How do I handle negative comments or reviews on social media? Your social media policy should include guidelines on how to handle such situations. It's like having a plan for when the game doesn't go as expected.
3. How often should I update my social media policy? Treat it like a playbook that needs updating each season. As social media trends and legal requirements change, your policy should adapt.
Before You Leave: The Quick Recap 🏃‍♀️💨
Creating a social media policy involves defining your goals, assigning roles, setting guidelines, and addressing security and privacy. Remember the bonus tips and FAQs as you create your playbook.
Before you leave, remember: A well-crafted social media policy is your playbook for winning the social media game. It's not about scoring a one-time win, but about consistently playing the game well, improving your strategies, and growing your business. So, get out there, play your best game, and remember – we're rooting for you! 🎉🏀
And when you're ready to gear up your digital strategy, don't forget to check out Growerse - your ultimate destination for digital products. Together, let's create something fantastic! 💼🌐