Cashing In On Language Skills: Making Money with Online Translation Services 💰🌐💼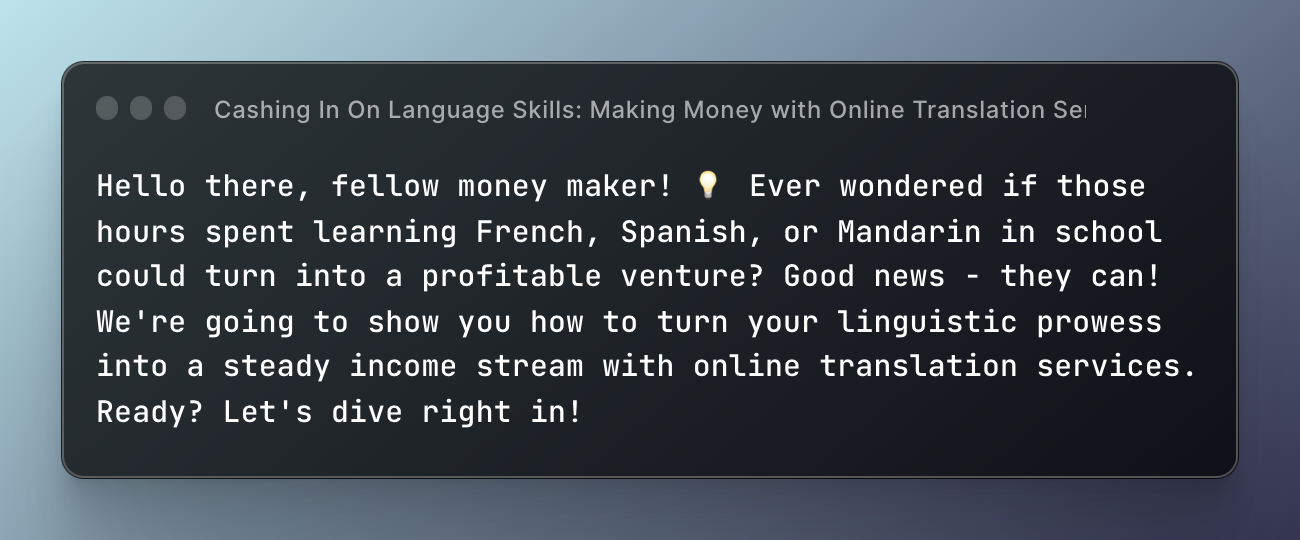 Hello there, fellow money maker! 💡 Ever wondered if those hours spent learning French, Spanish, or Mandarin in school could turn into a profitable venture? Good news - they can! We're going to show you how to turn your linguistic prowess into a steady income stream with online translation services. Ready? Let's dive right in!
The Rising Demand for Translation Services 📈
In an increasingly globalized world, the need for translation services is growing faster than a rocket launch 🚀. Businesses expanding into new markets, authors wanting to reach a global audience, academic researchers sharing their findings worldwide—all of them require translation services.
Now, you might be thinking, "But aren't machines taking over translation jobs?" Sure, automated translation tools are improving. But do they understand context, cultural nuances, or the latest slang like a human can? Not a chance! That's where you come in! 🦸‍♀️🦸‍♂️
Your Journey to Becoming an Online Translator 🛤️
Start your translation career is like building a LEGO masterpiece—one brick at a time. Just follow these steps:
Step 1: Assess Your Language Skills 🏋️‍♀️🏋️‍♂️
Ask yourself: "Am I fluent in at least two languages?" If the answer is yes, great! But remember, fluency isn't just about speaking the language—it's about understanding cultural nuances, too. You're not just a translator; you're a cultural ambassador! 🌎
Step 2: Get Certified 🎓
Consider getting a translation certification—it's like a passport, opening doors to more opportunities. Having a certification adds credibility to your profile and shows potential clients that you're serious and capable. But remember, it's not a must—it's the cherry on top of your translation sundae! 🍒
Step 3: Join Online Platforms 🌐
Platforms like Growerse are a great place to start! With a wide range of clients and projects, you can pick what suits you best. Remember, the key is to create an appealing profile showcasing your skills and experiences. It's your online CV—make it count! 📝
Money Making Tips for Online Translators 💰📚
Tip 1: Specialize! 🎯
Just like doctors specialize to increase their value, so can translators! Whether it's legal, medical, or technical translation, having a niche can help you charge higher rates.
Tip 2: Never Stop Learning 📚
Languages evolve—so should you. Keep up-to-date with language trends and slang. Attend workshops and webinars. The more you know, the better you become!
Tip 3: Network 🤝
Connect with other translators and clients on social media platforms. Join forums and online communities. Remember, your network is your net worth!
FAQs 🤔
Q: How much can I earn as an online translator?
A: It depends on your experience, skills, and specialization. However, the average translator earns between $20 to $50 per hour.
Q: Do I need a degree in translation to get started?
A: While having a degree helps, it's not a must. Many successful online translators started with just fluency in multiple languages and a passion for bridging cultures.
Before You Leave... 🏃‍♀️🏃‍♂️
If you've been dreaming of making money from your love for languages, now is the time to turn that dream into reality. With the ever-growing demand for human translators, there's a world of opportunity waiting for you.
By joining platforms like Growerse, you can tap into a global client base looking for your skills. Combine that with continual learning, networking, and maybe even a sprinkle of specialization, and you're on your way to a profitable online translation career.
Just remember, becoming a successful online translator isn't an overnight journey. But with dedication, passion, and a dose of perseverance, you're sure to carve a niche for yourself in the exciting world of online translation services. So, what are you waiting for? Start your journey today! 🚀🌍💼