Beyond the Grid: Mastering Instagram Stories for Your Brand 🌈🚀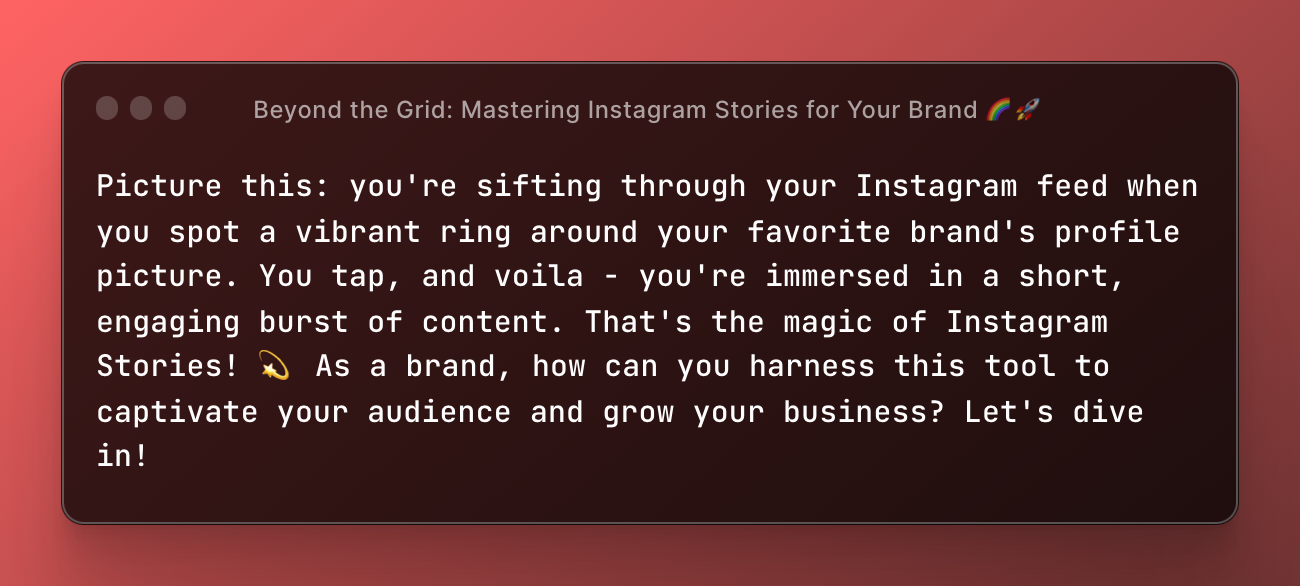 Picture this: you're sifting through your Instagram feed when you spot a vibrant ring around your favorite brand's profile picture. You tap, and voila - you're immersed in a short, engaging burst of content. That's the magic of Instagram Stories! 💫 As a brand, how can you harness this tool to captivate your audience and grow your business? Let's dive in!
Why Instagram Stories are a Brand's Best Friend 🥇🤝
Instagram Stories are ephemeral, playful, and interactive - a compelling mix for today's social media users. They allow brands to connect with their audience on a personal level, offering a behind-the-scenes peek into their world.
Instagram Stories: Your Brand's Digital Storybook 📖🌐
Using Instagram Stories effectively requires a pinch of creativity, a spoonful of strategy, and a sprinkle of audience understanding. Let's explore the recipe for success!
1. Tell a Story 📚
Stories are about narrative, not just a random collection of posts. Craft your Stories to have a beginning, middle, and end - it's like creating a mini movie for your followers!
2. Utilize Interactive Features 🎮
Polls, questions, countdowns - Instagram Stories are packed with interactive features. These tools not only boost engagement but also provide valuable feedback from your audience.
3. Showcase Your Products 🛍️
With product stickers, you can tag your products directly in your Stories. It's like having a virtual shop window that viewers can 'walk' into with a single tap!
4. Save Highlights for Later 📌
Instagram Story Highlights are a great way to give your Stories a longer lifespan. Think of them as the 'greatest hits' album of your Instagram content.
5. Consistency is Key 🔑
Like any social media strategy, consistency is vital when it comes to Instagram Stories. Regular posting keeps your brand fresh in the minds of your followers.
Bonus Tips 🎁
Use Instagram Stories ads for additional reach.
Experiment with different content types: videos, photos, boomerangs, and more.
Share user-generated content to foster a sense of community.
FAQs
Q: How often should I post Instagram Stories? A: Quality over quantity is the golden rule. Focus on creating engaging content and aim to post at least once a day to maintain visibility.
Q: Can I check who views my Instagram Stories? A: Yes! Instagram provides insights on who has viewed your Story, providing valuable data on audience engagement.
Q: How can I measure the success of my Instagram Stories? A: Use Instagram's in-built analytics tools to measure impressions, reach, replies, and more. This data can help you optimize your Stories strategy.
Quick Recap 📝
Ready to make a splash with Instagram Stories? Here's a quick recap:
Tell a captivating story.
Leverage interactive features.
Showcase your products.
Save the best for Highlights.
Post consistently.
And don't forget to check out those bonus tips for extra flair!
Before You Leave 🌅
Instagram Stories offer a dynamic platform for brands to engage their audience in a real, authentic manner. With a little creativity and a solid strategy, you can transform your Instagram Stories into a powerhouse of engagement, brand awareness, and even sales! Ready to get started? We bet you are!
PS: Looking for digital tools to elevate your Instagram strategy? Growerse has got you covered. Explore our vast catalog of premium digital products and elevate your brand to new heights!